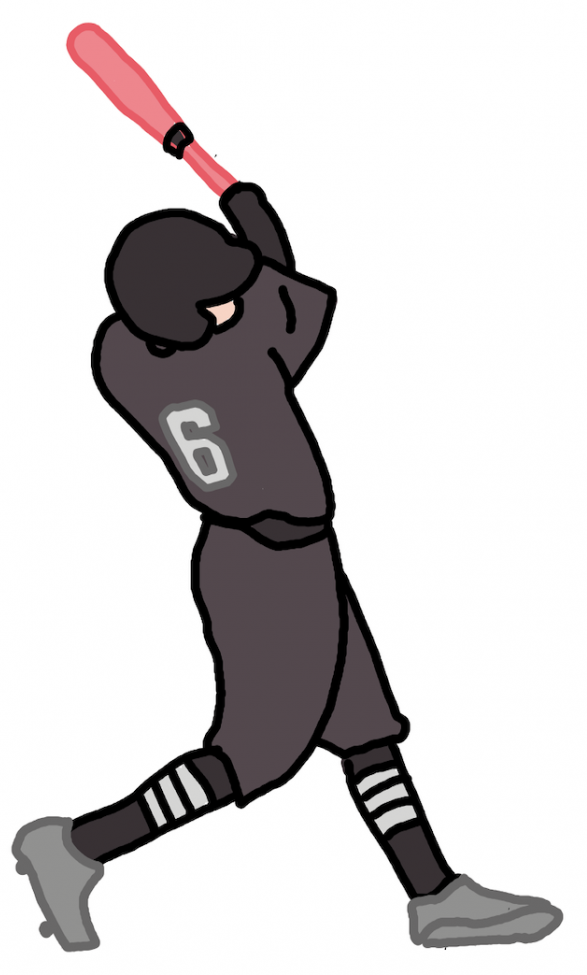 story by Rebecca Breland | art by Alexandra Fernholz | photography fair use
They left practice Thursday evening, expecting to return to practice the following day. They knew they would have Friday off as a day to practice remote learning, but never expected every day after that would also become remote learning. Thursday night, they received the news: their season had been postponed until they were back in school.
Then, as of April 20, 2020 Ohio Gov. Mike DeWine announced that all schools across Ohio were to remain closed for the remainder of the school year. The decision came as no surprise to many, but for spring athletes across the state, the news was devastating. Along with the cancellation of school came the cancellation of spring sports seasons as per the Ohio High School Athletic Association (OHSAA).
All across the U.S., Ohio, and the Lakota District, students have lost their ability to play their sport this season due to the coronavirus pandemic. For many, this was heartbreaking news, especially for seniors who lost out on their final season with their high school teammates.
read more about East's winter athletes here
East senior Preston Dorsey is among that group. Dorsey plays varsity baseball for East and will continue both his athletic and academic career at Wittenberg University in Ohio next fall.
"At first I was a little bit upset just because baseball is an outside sport and I really wasn't worried about coming in contact with other people too much, but I completely understand the ruling [sent down from the state]," Dorsey told Spark.
Dorsey would have gotten the most playing time out of all his years this year and he would have been able to play his main position as first string.
"Senior season is really something I've been looking forward to a lot because with a school as big as East and the team being so competitive [your senior season is] really your only chance to play a lot," Dorsey says. "This year would have been my year to play my position, play with all my friends that I've known for years, and it really would have felt like all my work paid off."
Dorsey believes that it is completely valid to be upset and that no one is overreacting about their sport being cancelled.
"I really feel sorry for [other athletes in my position] because I know personally how hard I've worked," Dorsey says. "If I could say anything to them I really just want to say I know what they're going through. I've gone through the grind and I've worked hard all three years, I completely understand that it's something to be really upset about."
In the midst of all of the information coming from the state, a key role was played by Lakota's own athletic staff, who are trying to do all they can to help the athletes in this difficult situation.
"Our response has been to make sure our student athletes are okay. I am worried about them," East athletic director Richard Bryant told Spark. "Coaches have been instructed to continually make contact with kids to make sure they are in a good place psychologically."
Bryant sees the implications this cancellation can hold for all of East's student athletes, especially the seniors. He believes seniors being unable to have their final season of their final year cannot be discounted.
"My heart goes to our seniors, not being able to compete for a state title, for their school or with their friends. It is critical not to belittle this, it is incredibly difficult for all of our athletes. We will support our seniors in a very visible way to make sure that they are ok."
Aside from the mental health aspect of the situation, East has been making sure that student athletes are able to stay in shape during the quarantine.
"Physically, coaches have provided plans for physical conditioning and health in hopes of kids being in shape to start their season," Bryant says. "Trainers have been providing kids with rehab and workouts to remain healthy. For example, we have several kids coming off ACL surgeries. These kids have to have a rehabilitation plan in place to make sure that kids are able to continue to move forward in their healing."
According to Bryant, teams are meeting, coaches are doing wellness checks, where they reach out to their athletes just to see how they are doing, and updates are still coming out of his office for all student athletes. East hopes to still honor athletes and recognize their achievements and have plans in place to do so. 
Throughout all of this Bryant believes that what is being handed down to him from the state and from OHSAA has been the proper rulings.
"The OHSAA has been on point from the beginning," Bryant says. "Perspective is important here for all of the naysayers and second guessers. People are dying in our country, our state and in our county."
East junior and varsity volleyball setter Grant Hubbard also agrees that OHSAA's actions and rulings during this time have been warranted.
"In light of the health situation, it was a very good choice to cancel [the season], just for everybody to be safe," Hubbard told Spark. "When we get the chance to come back and actually play, then we can just come back even stronger. We have that mentality since we have all this time off, we've been preparing, so when we come back we'll be better than ever."
Like other spring athletes Hubbard, along with the rest of his team, has received workout plans from the athletic trainers given to him by his coach. Hubbard believes these plans are vital in staying in shape during this time.
"I've been making sure my teammates are doing [the workout plan] too and checking up on them," Hubbard says. "I'm trying to initiate that if they don't, I try to encourage them, because this time off is just more time to prepare for us to succeed."
Though Hubbard is saddened by the news of his season being cancelled, he chooses to look at the big picture and take every aspect into account.
"I was really devastated, but I realized that health is more important than sports," Hubbard says. "Of course, I wanted to play in front of my friends and play with some of my best friends from high school, but we don't want to keep spreading the virus to more people. We have to wait for this to die down and when it dies down we can come back better than ever, and take the GMC."
Hubbard is hopeful that both he and his teammate will take this time to continue to grow as athletes. To others in similar situations, he says to keep working.
"Even though this is happening, I feel like [spring athletes] have got to keep working at it. They have got to keep getting better and better," Hubbard says. "Some of the players from JV that want to move up to varsity are feeling bad about themselves, because they're not getting the playing time. But you don't need to be on the court to start getting better. You have to keep working at it; keep doing drills at home and keep working out so you can get better and better." 
Hubbard hopes to continue his athletic career in college after his senior year at East next year. Luckily for both himself and Dorsey, COVID-19 has not had a major impact on Hubbard's recruitment or Dorsey's preparations. Others, however, are already  seeing the impact of coronavirus for their college seasons.
East senior Keeley Goldberg is not as fortunate when it comes to the impact COVID-19  has had  on her collegiate season. Goldberg is a member of the East dance team and, though school dance is a winter sport, her club team competes throughout the year and the spring time is vital to her college dance process.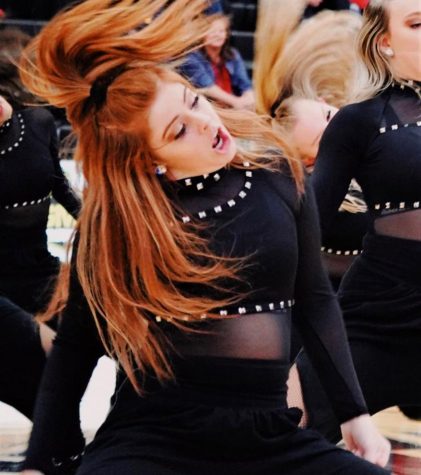 In the fall, Goldberg will be attending the University of Kentucky where she will be studying middle level education. For dance you must commit to the school before trying out and the tryout period is in the spring months of your senior year.
 Normally, prospective dancers would attend different dance clinics throughout the year to learn a routine, the fight song, and work on their technical skills. From these clinics athletes are able to get a feel for the team as the current team is all there to watch the performances. Prospective athletes also have a chance at getting a video bypass, which allows them to bypass a portion of the tryout.
Because of the situation surrounding COVID-19, the University of Kentucky, as well as many other schools were forced to move their tryouts online using platforms such as Facebook Groups and different apps such as Band. This online platform is also leaving many dancers confused as to what they should do to prepare.
"There's a lot of girls that are stressing out right now," Goldberg says. "They updated it and they say you turn in a video of yourself doing your routine, and then they'll give you a video bypass."
Goldberg believes that having the tryout process moved online will impact how many dancers will receive video bypasses. She believes that it will be harder to see someone's personality on a video and therefore coaches may be more reluctant to give out bypasses.
"I've been trying to practice the stuff I would need for tryouts because usually I would have a certain day where I have private coaching for my tryouts and now I can't have that," Goldberg says. "So I'm not able to prepare properly and it's pretty stressful."
Goldbergs main worry concerning video tryouts is surrounding perception through a video.
"In person, it's so easy to stand out from a crowd," Goldberg says. "Standing out on a video is so much harder and it's become a process of me, my mom, and my coach trying to figure out how I make myself stand out on a video."
Aside from the issues of the tryout itself, Goldberg is worried that this lack of in-person communication will affect the team dynamic down the line. At tryouts, the girls usually have around three days to meet each other and make new friends, but now all  communication will have to be moved online. Nevertheless, Goldberg believes the team will come together in the end.
"I think that we'll be able to come together," Goldberg says. "It's just gonna be a little hard at first having never met these girls. I have hope that we will click, because we're all going to the same place, same school, same dream. It'll be a little bit tough at first."
Dancers, including Goldberg are not letting this hinder their passion though. No matter the circumstances, Goldberg says that she will continue to work towards her dream of being on the University of Kentucky dance team, no matter how the tryouts pan out.
"I'm trying to be positive about it because I want people to know that like there is hope, and everything will work out in the end," Goldberg says. "It's just gonna be a hard patch right now but it's all right. We're in this together."