story by Hannah Myers | photography by Andrew Marshall | infographic by Kelly Johanteges
This court is hyped up by all the fans. Rival versus rival. East versus West. The outcome of the game has been highly anticipated by everyone there. It all came down to the kills, kills she had. She won the game.
East senior Sarah Norcom is the girl with the kills. The girls' varsity volleyball outside hitter turns heads whenever she plays. Even heads of those at the University of Cincinnati (UC), where Sarah is committed to continue her volleyball career.
"I am very excited," says Sarah. "Playing at the collegiate level has always been a dream for me."
Sarah isn't the only one that's excited though. Her dad, John Norcom says he is happy that his daughter will be playing so close to home. 
Before commiting to UC, Sarah wanted to attend college somewhere warm. This would mean not only playing far from her family, but it would also be hard for them to see her play in person. To begin her college plan, Sarah had intended to play at Tulane University in New Orleans, Louisiana. That plan has since changed to playing at UC in order to be closer to home. 
"I'm glad because I would have never gotten to see [Sarah] play [in New Orleans]," says John. "It's going to be fun. We'll get four more years [to watch her] hopefully."
But this dream of Sarah's was not easy to achieve. She has worked hard for it and always has a clear drive to win.  When in game, she's able to help in any rotation, according to East volleyball coach Jana Stephens. 
"[Sarah] is super athletic. That's something that you can't teach," says Stephens. "I'm sure UC believes they can train her to be an important part of their team."
The athletic abilities that Sarah has under her belt have allowed her to receive seven Player of the Match awards in the 2018 season alone. 
These awards were given for many reasons, including Sarah's abilities to be a good outside hitter. According to Stephens, Sarah is a great defender and passer. She is a strong leader and a captain figure for the team.
Sarah's teammates, including varsity volleyball player and junior Delaney Senger, also see her as the powerful leader she is. Even when in tough situations, Sarah comes out on top.
"[Sarah] is a leader because she always can pick the team up after we haven't had the best of games," Senger told Spark. "She's been super positive about everything this season." 
Sarah's skills have allowed her to start on varsity as an outside hitter since her sophomore year, giving her the experience in order to be the strong leader she is.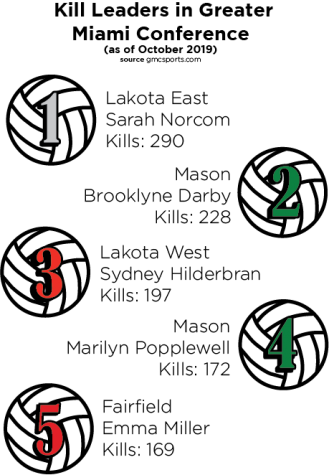 Last year Sarah set the single season record for most kills, and she has set the highest record for kills in East's history at 844. Sarah was also second in Cincinnati for kills last season.  
Sarah's talents are not only noticed at East, but other Greater Miami Conference (GMC) like West have taken note. According West girls varsity volleyball coach Tracey Kornau, Sarah is a threat to other teams. 
"Teams are not able to stop [Sarah]. They try to contain her as best as they can," says Kornau, who is in her 29th year. "She's not afraid to put her team on her back and carry them."
With all the noticed records and abilities under Sarah's belt, John said that he's going to miss watching Sarah play in high school. According to John, he and Sarah have both made strong relationships with parents and players.
According to John, he is proud of Sarah's career at East and the accomplishments were well deserved because Sarah really loves the game. 
"Although [volleyball] does take away from other social stuff, when she's on the court, she loves it,"John says.
Sarah's love for the game has also helped her commit to club volleyball. Playing for Elevation Volleyball Club since she was nine years old, Sarah has helped bring her team to third and second in the country in back to back years. 
Sarah's club coach Adam Goller said that the Elevation team improved heavily and the girls played their best ball to make it so far. 
According to Goller, Sarah is a go-to outside hitter and is a very significant player to the team. 
"[Sarah] was terminal in both the front and back row with a great serve," says Goller. "Her ability to be [ultimate] out of system proved to be a significant part of winning tough matches."
These matches played by Elevation took place all over the U.S.. Sarah and her team have been able to play in places like Chicago, Dallas, Philadelphia, and Florida. 
But Sarah doesn't have to travel far to feel the excitement of a good match. On Aug. 22, the varsity girls had a hard fought match against Seton High School. 
Before the varsity match, Sarah said that it was thrilling to watch the junior varsity (JV) team play. She said it was fun for her to be able to cheer for East's own team.
"That gets me excited. I have all this energy to be able to cheer for [the JV team]. Now we get to go out and they get to cheer for us." says Sarah. "It's such a great environment to be a part of."