Lakota School Board member asked to resign after posting a link to pornography website on Facebook
In a unanimous 4-0 decision, the Lakota Board of Education voted to formally ask board member Darbi Boddy to resign after heavy controversy and community backlash on her recent Facebook post.
STORY AVA HUENING | PHOTOGRAPHY IANNI ACAPULCO
THIS IS A DEVELOPING STORY
The Lakota Board of Education voted 4-1 to censure fellow board member Darbi Boddy during an emergency school board meeting Wednesday evening. Later in the same meeting, the board voted unanimously in a 4-0 decision, with Boddy absent from the vote, to formally request Boddy resign from her position on the board. 
The meeting was called for the purpose of addressing a post made on Boddy's campaign Facebook account, Boddy for Lakota. In the post Boddy, who ran on a platform of anti-Critical Race Theory (CRT), openly criticized the Hamilton County Educational Service Center (ESC), a company recently hired by Lakota to conduct a math curriculum audit for grades 7-10. Boddy stated in the post that the Hamilton County ESC "subscribes to tenants of critical race theory" and therefore cannot be trusted to conduct the audit properly. 
Boddy then went on to create a list of teachings that the community should look out for in Lakota. Among that list was a link to scarleteen.com, a website devoted to sexual education teachings. However, the link contained a typo so when users clicked on it to visit the website, it instead took them to a completely different website that contained pornographic material. 
The typo in the link was eventually corrected in an edit made several hours after the original link was posted, but not before community members visited the site and saw the material.
During the middle of the board's vote on whether or not to censure her in response to the post and previous statements, Boddy grabbed her stuff, including her young daughter who was present at the meeting with her, even after Board President Lynda O'Connor asked Boddy if she wanted her daughter to be taken out of the room during the discussion. She then walked out of the room. Before she left, Boddy stated that she "will not be a part of this political ruse" and voted no to censure herself. The vote on whether or not to formally request her resignation occurred after Boddy left, and she was therefore not included in it. After Boddy left the meeting, O'Connor continued to address Boddy in the discussion.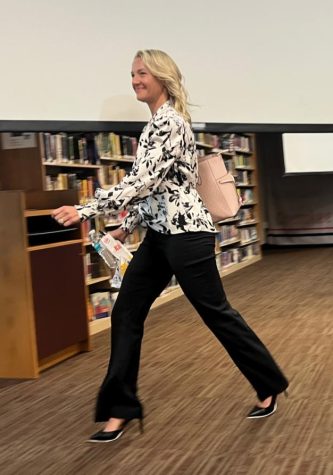 O'Connor introduced the motions to both censure Boddy and ask her to resign. 
"To post pornographic content on an official, public-facing school board member account that can be accessed by many of our own students is absolutely unacceptable," O'Connor said. "Furthermore, to make a public accusation that our curriculum contains such pornographic material is deplorable."
Later that evening in a message to Lakota staff, parents, and community members, O'Connor condemned Boddy's recent behavior. 
"In addition to this particular incident, Mrs. Boddy has previously engaged in conduct that is unbecoming of a board member and both unprofessional and disrespectful to members of our school community," O'Connor wrote. "This kind of behavior is distracting and detracts from the important work that we as a Board need to be focusing on for the betterment of our school district and the 17,000 students we serve." 
Fellow board member, Isaac Adi, who campaigned in the fall with Boddy on a similar platform said all board members have to be "responsible for all our actions and our behavior should also reflect that."
Despite the large waves of criticism that Boddy has received recently for the post and her reaction at the board meeting, she has made it clear that she does not plan to resign from her position. 
"One of the pornographic sites that was put in my communication as part of my list of what to look for in our schools was a typo and although it was not meant to be part of my communication, it is still representative of the disgusting material that is being put in front of our children," Boddy wrote in a follow-up post to her original post that contained the mistyped link. "If a typo brings more attention to this problem so be it."
In an interview with Fox19 after she walked out of the board meeting, Boddy stated that she believes that she is doing the right thing and fighting in the best interest of the students at Lakota. 
"This is what people want. They don't want someone playing politics and I'm not playing politics. I'm here to help protect the community and protect the children," Boddy said in the interview. "That's what I'm doing, that's what I was elected to do. Many people support what I am doing." 
As of Wednesday's events, the Lakota Board of Education has taken all measures they legally can in response to the situation. In Ohio, school boards do not have the authority to remove one of their own members. 
"While the board has passed the motion to request her resignation, please understand that the decision is up to Mrs. Boddy. The Board does not have the authority to force a member to resign," O'Connor said in her message to the community. "The steps taken at this afternoon's emergency meeting are the strongest actions the Board can legally take in response to this situation. Please know that the Board and the administration is committed to the integrity and standards that make Lakota the great community it is."