More than Just a Sport
Story by Broc Nordmark | Photography by Richard Giang | Infography by Lucas Fields
It's dead silent. The only sound is the sound of the arrow being drawn, loaded and pulled back. Then a deep breath and the sound of the arrow striking the bullseye.
That moment is what archers strive for and they can find everything they're looking for with Hispins Archery. Hispins looks to give each and every kid an opportunity to succeed and have fun with the sport of archery
Hispins Archery is an archery organization paired with many churches, including Grace Chapel in Mason, Ohio. The program brings in many different types of kids and teaches them all about the sport of archery.
Hispins organization doesn't just teach the kids about archery. It also teaches kids valuable lessons for their lives, including introducing kids to God and help the kids build a strong Christian Faith.
The organization offers many different opportunities for kids to grow though the Hispins program. They bring in kids from all different types of races, ethnicities, religions and economic status. They educate the students about the different aspects of archery, christianity and life.
Hispins coach Steve Cornell, helps bring out the best of all aspects in the kids. Cornell's love of coaching these kids in archery stems from his son's love of the sport, saying his son was the one who got him interested in the sport.
"[My son] picked up archery at a cub scout camp, and he just loved it," Cornell says. "He'd always say, 'Dad, I want a bow.' So, we went to a sporting goods store, and I looked at bows, and they were 300 dollars. So I told my son, 'We're going to get you some lesson'."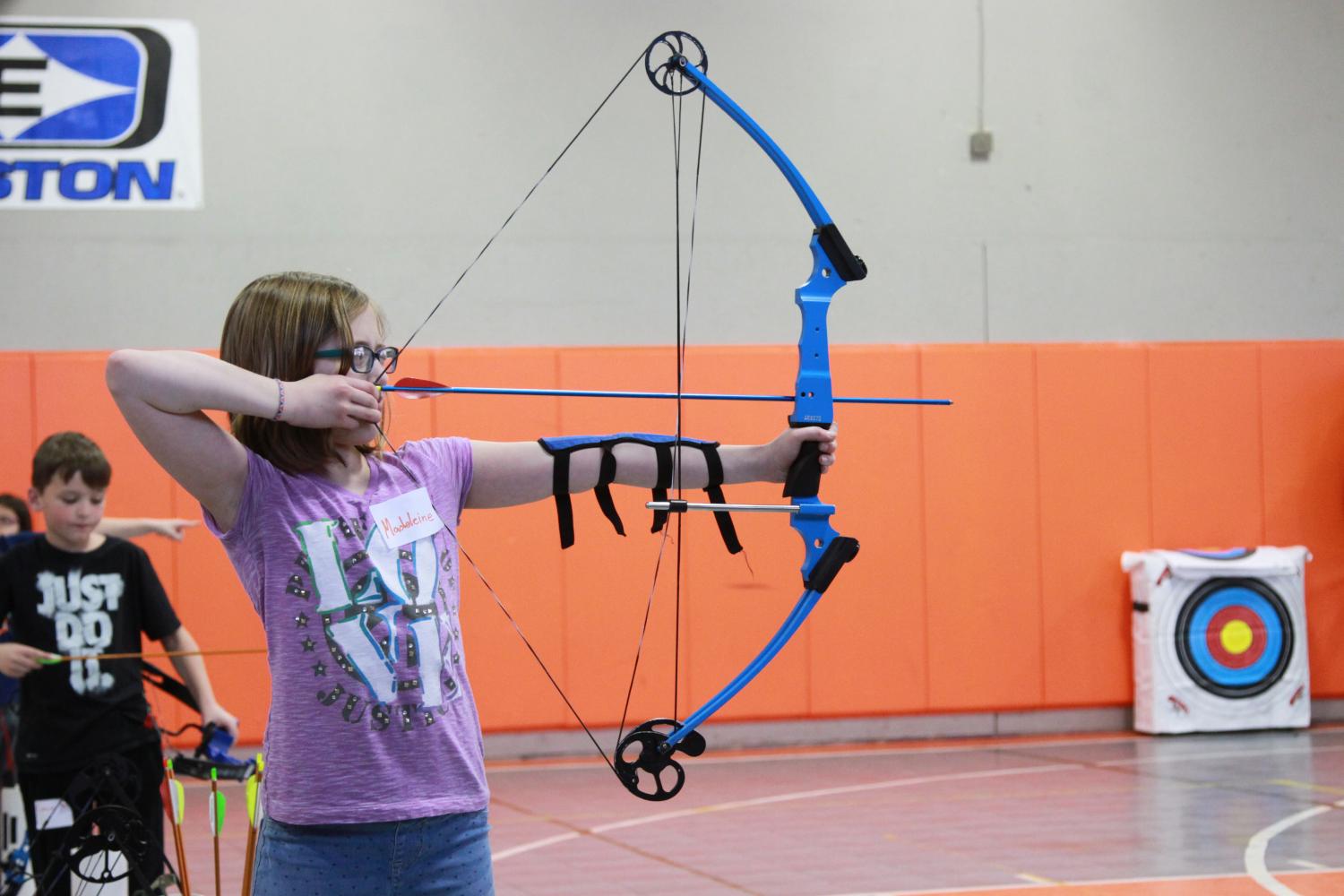 Cornell talked about how he got involved with a club, and he volunteered to help with the equipment due to his background with mechanical engineering. However, instead of asking him to help with equipment, they asked him to coach.
Cornell talked about how he developed a love for the sport, and it made him want to do more to become a better coach. He began taking coaching classes and running national events such as the 2002 and 2006 Junior Olympic Archery Development Nationals, the 2004 Olympic Trials, the 2006, 2009, 2010, and 2012 U.S. Nationals, and USA Archery Coach Symposiums
"Next thing I knew, I was moving up the coaching ranks" Cornell says, "I got on the Junior Dream Team, which is a program that Team USA uses to train olympians."
Cornell talked about how he's had a lot of success coaching archers, with some even moving on to the olympics. He talked about how he trained Zach Garrett in Missouri. Garret later went to win silver in the Rio Olympics.
Then Cornell says he came back to Mason to work with Hispins full time. Cornell wanted to make a difference for kids back here who may not necessarily have the opportunity to play other sports.
This includes one of his students, a girl who only has one arm. Normally, a person with one arm wouldn't play sports, but Cornell found a way that she can still be successful in archery.
"We taught her how to shoot a bow by using her mouth. She pulls the bow back with her teeth, she puts the string in, and we have a little mouth tab", Cornell says. "She grabs the arrow, and puts it back in her molars. Then, using her arm to hold the bow, extends her arm out, and then releases by just opening her mouth."
East Senior Rob Hoover went through the Hispins program as well. He got involved due to his love for hunting, and it helped him develop many faith and life skills.
"It teaches you a lot of focus and patience. You have to be able to really focus on your form," Hoover says. "You can't let your mind get away from what you're doing, and learn not to rush your form."
Hoover continued saying how these skills tied back into his desire to build his faith, saying that the focus and patience that the sport taught him applied directly into his Christian faith.
"Both patience and focus are key in Christianity," Hoover says, "You have to know that developing a relationship with God is going to take a lot of time, and you need to stay focused on trying to build that relationship, or the foundation of it could fall apart for you."
Hispins welcomes in all young athletes to give them opportunities for archery, but also provides them an opportunity to learn about God that they didn't previously have. The organization uses archery as a way to show kids the bible and all the lessons that come with it.
"We talk about the upside down archer, we talk about hindsight being 20/20, and then the last thing that says, so what do you think God's plan is compared to what you think," Cornell says. "We talk about the definition of faith. So we ask, what do you think describes God's faithfulness? And it basically says in the bible that faith is to look forward to hindsight."
The upside down archer is a big lesson that Hispins uses to teach the kids about God through archery. The upside down archer refers to when we realize that some of God's ideas for our lives seem backwards from what we think, and we need to learn to trust his ideas more than we trust ours.
A colleague of Cornell, Bill Jones, works closely with a lot of the kids in the Hispins program that are starting to learn about their faith. Jones also talked about some of the lessons of faith that hispins teaches the kids.
"Hispins has a curriculum that we follow that uses the parts of the bow to describe the three parts of God; God the Father, God the son and God the Holy Spirit," Jones says, "That's geared towards the younger kids, to get them hooked, and also teach them a bible lesson."
Jones continues to talk about how a big lessons the kids learn through the program is focus. They learn more of the physical aspects of focus, but also the skill of focus relating to their faith.
Rob Hoover helped get his younger sister Ashley involved with the program as well. She found a lot of success in both archery and her faith.
"When you find success in archery, it makes it feel like all that effort you put into it was worthwhile," Ashley says. "The same can be said of your faith. When you take a step forward with your faith, it makes you feel like all the effort you put into it was for a purpose."
Not only does Hispins provide a great way for kids to play and have fun with a great sport, but it gives everyone an equal opportunity to learn and grow, both in faith and in life.
"It was such a nurturing environment," Rob says. "Everything they did and the lessons they taught set me on the right path to becoming the person I am today."