story by Shiloh Wolfork | infographic by Caroline Bumgarner | art by Alexandra Fernholz
It's just another day. He wakes up and at first everything appears normal. Until he looks into the mirror and his perception of himself changes. He is unhappy with the body of the person staring back at him.
East sophomore Trevor Oswald had trouble with feeling completely comfortable with his weight for three years. And he is not alone.
"One day I woke up and realized I didn't like how I looked," Oswald says. "I wasn't skinny anymore."
According to the Body Image Therapy Center, an organization that works to promote body positivity, 43 percent of men are dissatisfied with their bodies. Based upon a study conducted by Psychology Today in 2018, 301 men identified as heterosexual and 131 men identified as a sexual minority (gay, bisexual, transgender, etc).
Heterosexual men were reported as having a more positive image in comparison to sexual minority men.
Oswald explains why he believes it is difficult for some men to find acceptance for their bodies.
"The way that Hollywood portrays men in film and television as hyper-masculine and sometimes toxic attracts people," says Oswald, referring to the term for the exaggeration of male stereotypical behavior, emphasizing physical strength, aggression, and sexuality. "It makes everyone want to live up to those standards."
"It takes other people highlighting [various] bodies as beautiful for them to actually get the credit they deserve," —Lori Bishop, UC Assistant Director of the Student Center
University of Cincinnati Student Wellness Center Ryan Anderson explains how these portrayals in media can be harmful to the way that men view themselves.
"The typical male body image is seen as a pristine, hairless, white body with some form of larger muscle supply," Anderson says. "Other bodies are seen as lesser than especially if there's some kind of weight involved."
According to University of Cincinnati Assistant Director of the Student Center Lori Bishop, body composition and portrayal of a specific "male attitude" within media stimulates the lack of acceptance.
"Our media portrays what a man should be as someone whose muscular someone who is tall in comparison to women," Bishop says. "It's someone who conveys a strength, carries themselves in a sense of confidence and is seen as more tough or competent. And for men who might not identify with that, [this image] might set unrealistic expectations and possibly impact self-confidence. "
A 2018 study conducted by Ipsos reports that 54 percent of Americans describe the "perfect" body as being athletic amongst both females and males. Of those surveyed, 20 percent describe the "dad bod" as the ideal male physique and more than ten percent describe the "perfect" male body as very muscular.
According to the National Eating Disorder Association, muscle dysmorphia, a type of body dysmorphic disorder is a condition that mainly affects male bodybuilders. Individuals who have the disorder tend to obsess about gaining muscle, focusing on spending many hours in the gym, supplement intake and potential use of steroids.
"Being a health educator, it really flows into physical health, where a lot of men are going to the gym and getting physical exercise," Anderson says. "But then they might push it to an extreme where they have a sort of body dysmorphia because they've constantly been told they're not good enough."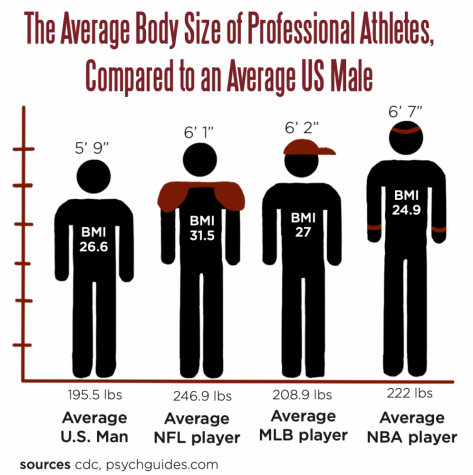 According to the Huffington Post, the severity of struggles with male body image stems from the inequality between the recognition of diverse male and female body types within the media.
Miami University Assistant Fitness Director Shannon Speed explains how the lack of appreciation of male body types prevents men from acknowledging their struggles with body image.
"It's been a bigger fight for women because so many more have been affected by it. But there are men who have been affected," says Speed, who has held her position for nearly three years. "It's a stereotype that men don't have that problem. So if they do, they may not recognize it, or they may recognize it and be too ashamed to talk to anyone about it."
According to Young Men's Health, the effects of body image on self-esteem are even more powerful as a teenager.
Oswald feels that male body insecurity is heightened as a high schooler because teenagers are more emotional and more likely to place the opinions of others before their perception of themselves.
"Students contribute to stereotypes surrounding body image by sometimes bullying kids that don't look the way that they think people should look," Oswald says. "I mean, I've been called fat before but that doesn't usually hurt me."
"The less secure you are as a person, the more other images and things people are saying are going to affect you," Director of Recreational Sports at Miami University Seth Cropenbaker says. "So generally millennials feel the pressures to fit in more than those who are older."
The National Eating Disorder Association reports that 90 percent of teenage boys exercise with the goal of bulking up.
According to the Bradley University Body Project, which encourages body acceptance, men tend to be quieter about body negativity and seek medical treatment less frequently because of shame.
"It takes other people highlighting [various] bodies as beautiful for them to actually get the credit they deserve," Anderson says.
Male body image is also usually more misunderstood than female body image. Many people perceive male body insecurity as a "lack of muscle," typically ignoring reasoning that is potentially more complex, including insecurities with balding, body hair, and height.
According to Bishop, promoting and recognizing different bodies within society is necessary in order to limit the stereotypes.
"There's more discussion around more open or broad views of what it means to be a man. There are outlets for men to talk about being their more authentic selves and not trying to live up to certain standards in terms of how they look or act," Bishop says. "But it is not yet totally normalized to have these conversations. So of course, there's a lot of work to do."
And progress is being made. According to The Independent, growing numbers of alternative modeling agencies such as AMCK Models London are helping to reimagine the traditional male underwear modeling scene. By offering diverse body types in less- conventional clothing styles, these agencies are signing male models that challenge the stereotypes and changing what it means to be a male model.
"There was a time in my life where I was once uncomfortable," Oswald says. "But I've realized that as long as I feel good and I think I look decent, that's all that matters to me."