Under the Influence
Story by Sophia Spivey | Photo Illustration by Maya Wells | Infographic by Lexy Harrison
In order to research for this story, Sophia Spivey investigated how minors buy alcohol by becoming a Confidential Informant and recounted her experience.
*denotes name change
Before even walking into the party, she decided she wanted to get drunk. Picking up the shot, throwing it back and then moving on to a nice cold beer, she suddenly felt new, at peace with herself. Next thing she knew she was dancing on the coffee table screaming "I'm so drunk" at the top of her lungs. All that was in her mind was the thought of being free from all the pain. For that night all she needed was to be distracted and blur into the numbness.
Lakota East senior Emma Blake* drinks as a way to escape from her constant roller coaster ride of emotions she has faced throughout high school. Blake was first introduced to alcohol when she went to a party with one of her coworkers a few years back. When Blake drinks she feels a wide range of emotions, but it doesn't matter to her because when she drinks, "the judgement is all gone."
"Depending on the situation you could be experiencing any amount of different emotions," Blake said. "I generally feel happy and act without thinking depending on my level of intoxication. My favorite thing about alcohol is no one will judge you. They will cheer you on no matter what. People become nicer when they're drunk; there is less judgement and more acceptance."
Of 308 East students surveyed, 70.2 percent said they have drank alcohol. Another Spark survey conducted found that eight percent of 330 East students have bought alcohol.
According to the 2015 National Survey on Drug Use and Health (NSDUH) survey, 138.3 million Americans aged 12 or older reported current use of alcohol, and of those 7.7 million people ages 12 to 20 reported drinking in the past month. One in 10 adolescents aged 12 to 17 were current alcohol users in 2015 as well. On top of that the Centers for Disease Control and Prevention (CDC) found that approximately 4,554 underage deaths happen each year due to excessive alcohol use.
West Chester Chief of Police Joel Herzog knows how underage drinking can lead to a wide range of consequences, from alcohol poisoning and death to fake ID felonies. Herzog believes that teenagers are more susceptible to becoming drunk due to the fact that they play party games and aren't accustomed to alcohol.
"I don't know if they are more susceptible to alcoholism, but I do believe they are more vulnerable to over intoxication due to the type of drinking teens do [such as] games, beer bongs and chugging," Herzog said. "The fact that it is a new experience for teens and they do not understand that it takes time to become over intoxicated leads to continuing to drink until there is alcohol poisoning."
According to Oxford Police Chief John Jones, underage drinking has a wide range of consequences because it is a first degree misdemeanor. The maximum penalty for a minor is a $1,000 fine with six months in jail. The underage individual's punishment typically consists of an alcohol class and community service.
Individuals under the age of 15 that decide to drink alcohol are six times more likely to become alcohol dependent than adults who begin drinking at age 21, according to the CDC. The organization also found that underage drinkers may be more susceptible to poor school performance, increased risk of suicide and homicide, and increased risky sexual behaviors.
TriHealth Addiction Counselor Judith Gissy considers the underage drinking ban "the most broken law in the United States." Gissy said that drugs such as alcohol can be damaging to an adolescent's developing brain.
"We don't have all those answers, particularly with adolescents," Gissy said. "We do know that an individual's brain is not fully developed until the age of 25, so use of a drug during those formative years can be dangerous. We also know that use of a mood-altering drug permanently affects the brain, in that it creates permanent 'pathways' to the dopamine receptor sites in the brain that do not go away, even when the person abstains from the drug."
According to the National Institute on Alcohol Abuse and Alcoholism, 11 percent of all alcohol consumed in the United States is imbibed by individuals ages 12 through 20.
East alum and Indiana University junior Rosa King* spent the past summer in London and was legally allowed to drink there because the legal drinking age is 18. She is 20. King didn't worry because she knew she would be in no legal trouble for drinking. The most frustrating part about coming back to the United States for her was knowing she was "mature enough to handle the responsibility of buying my own alcohol" even though the legal age here is 21.
Her first party back in the United States was a completely different experience. There was a feeling of despair in the air knowing what she was once old enough to do had been stripped away just by coming home. After drinking a few sips of red wine and taking a deep breath, she decided it was time for her to socialize. She joined in on one of the party games, beer pong. With each swig of beer she took, she let loose more and was eventually ready to dance.
"My favorite thing about alcohol is its ability to act as a social lubricant," King said. "I'm anxious when I meet new people, so it lowers my inhibitions and allows me to more easily make new friends and connect with people."
According to the National Institute on Drug Abuse, 72 percent of individuals have consumed alcohol by the end of high school and 37 percent have done so by eighth grade.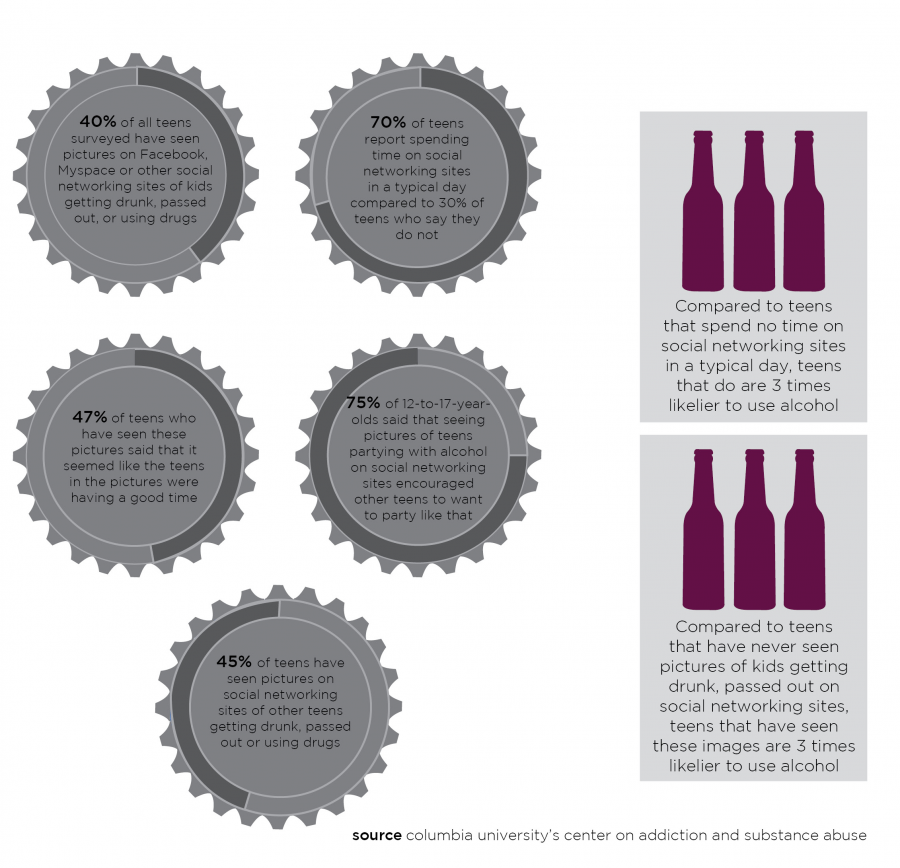 Ohio Investigative Unit (OIU) which separates into seven statewide stations to investigate drugs, alcohol, tracebacks and food stamps Agent in Charge Adam Johnson knows what to expect. He has been involved in law enforcement for the past 17 years and believes that minors should be aware of the ramifications of not only underage drinking, but also posting online while drinking and using a fake ID. According to Johnson, no matter what career field an individual is heading into, those things can affect whether one is hired since employers are not only performing background checks, but have also started looking into candidates' social media accounts.
"All people should be cognizant of what they are deciding to put up or not put up [on social media]," Johnson said. "It might seem like something that is fun or good at the time, but down the road it can definitely come back to haunt you when you are looking for work. It goes hand-in-hand with not getting an underage ticket or having fake IDs and all that. It can hurt your future."
According to a study conducted by the United States National Library of Medicine and the National Institutes of Health in 2007, fifty one percent of underage college students reported that they thought alcohol was "very easy" to obtain and 18 percent reported that they used a fake ID to obtain alcohol.
It was a late night when East alumni and Ohio University freshman Ashley Clark* and friend decided to buy a fake ID online to have an easier time buying alcohol. At first her nerves got to her, but once Clark knew the fake ID would work, every place she has gone to using it has sold her alcohol without hesitation.
"When I first used it [the fake ID] I was very scared, my heart was racing, but then it worked," Clark said. "I don't like to use it at Kroger or grocery stores because it's too risky, but bars are less strict and less likely to take the ID. It is definitely scary at first, but after you do it a few times it gets less scary. It's all about your persona when you're buying. If you seem confident and at ease, they are less likely to question the ID."
Over 5,400 individuals under the age of 16 have their first full drink of alcohol every day in the United States, according to the Pennsylvania Liquor Control Board.
Certified Recovery Coach and Pro Corner author, a website with content created by professionals to help highlight key points in addiction, treatment and recovery, Cathy Taughinbaugh works with parents whose children have addiction problems on a daily basis. She believes that deciding to drink before the legal age can affect an individual's future because she specializes in working with parents of children struggling with substance abuse, Taughinbaugh has seen firsthand how alcoholism can ruin a student's future when it comes to college and careers. Students who are alcoholics aren't capable of maintaining a job or focusing on their studies.
"Since 90 percent of addictions begin during the teen years, substance use can greatly affect a person's life," Taughinbaugh said. "If a person does misuse or become dependent on drugs or alcohol, they often have a hard time realizing their life dreams. College and careers are often derailed. Many will drop out of college and are unable to keep up with their classwork."
Since 90 percent of addictions begin during the teen years, substance use can greatly affect a person's life. If a person does misuse or become dependent on drugs or alcohol, they often have a hard time realizing their life dreams. College and careers are often derailed. Many will drop out of college and are unable to keep up with their classwork. – Cathy Taughinbaugh, Certified Recovery Coach and Pro Corner author
The Lakota East Student Code of Conduct states that "students shall not receive, buy, use, transmit or be under the influence" of any alcoholic beverage. Breaking this rule is a level three offense that results in expulsion unless an "alternative to expulsion is determined for a first-time offender pursuant to Policy."
East Principal Suzanna Davis believes that one of the best ways to prevent students from overindulging in alcohol is to spread awareness of the issue and how it can change an individual's future. According to Davis, East has many practices in place to help encourage minors not to drink such as white-out day, Be the Difference, social media and more. Through these outlets East emphasises how one drink can change a person's life and in some situations cause others to be harmed in the process.
"I can tell you that I am certainly concerned as a high school principal about the concerns associated with teenage alcohol consumption," Davis said. "I think that it's in many of the ways we approach the subject in terms of the white-out day as an example to get students thinking. I think we talk about it during be the difference, a little bit about breaking down the barriers and valuing yourself. I don't know if there is any one size fits all. I think we are constantly looking at how we are addressing it from multiple angles."
As Blake walks home from the party she can't help but think of how she wants to feel that rush again. She looks back to the first time she drank freshman year in high school and realizes how much her taste of liquor has grown from whatever she can find to the most expensive bottle of scotch. Blake has broadened her scope of alcohol she drinks and can't wait to find her next drink.
"The extensive section of alcoholic beverages and types will continue to amaze me," Blake said. "Anyone can find something that fits what they want, whether that's with a little alcohol or a fairly large amount of it. I always say, no matter how hard it is to get alcohol, if a minor really wants to drink, they no doubt will find a way to get alcohol and drink."
The OIU does compliance checks with bars and convenience stores to keep places accountable and ensure that alcohol isn't easy for minors to buy. Police stations can conduct compliance checks as well, but only the OIU can issue liquor citations. If a bar or convenience store is caught selling to a minor there are heavy penalties for both the sales clerk and alcohol permit holder, according to Johnson.
""It [selling alcohol to a minor] is an unclassified misdemeanor, but it basically has the same penalty as a misdemeanor first degree, which is the first misdemeanor you can hit before you hit felonies," Johnson said. "It's up to six months in jail and or $1,000 fine; That's what the clerk or bartender would be looking at for selling. On top of that what our unit also does because we are a state agency that handles all of the liquor permit premises from a law enforcement side since anywhere that sells alcohol has to have an alcohol permit, whether it is a bar or carryout we will civically issue an administrative citation against the liquor permit itself."