STORY CAMDEN BRADEN | PHOTOGRAPHY CARA RAIFORD
The Lakota East girls volleyball teams hosted Princeton for their annual "Hawks for the Cure" fundraiser event on Sept. 28. The event revolves around breast cancer awareness and raises money through sales of tickets, t-shirts, raffle baskets, concessions and many more. The proceeds from the event are donated to the Susan G. Komen Foundation.
The Thunderhawks took down Princeton in four sets, winning 3-1. During the game, the energy was extremely high throughout the stands and on the court. Lakota East head coach Jen Dreher elaborated on what the charity does and how it has impacted the volleyball program.
"This charity has impacted our organization in big ways as it has been a support system to our families and even families in the volleyball program," Dreher told Spark. "This charity delivers meals, provides transportation, and other assistance with families who have a loved one battling cancer." 
East junior defensive specialist Nora Hundley touched on why this is such a big event for the team, along with some of the aspects that take on a bigger meaning than volleyball.
"The Hawks for the Cure game is a big event for East volleyball. We do this not only to spread cancer awareness, but also to raise money and donate to charity," Hundley told Spark. "It is so nice to see everyone get together and spread awareness, while being there for those who need support and love."
Right side hitter and East senior Lilli Meyer describes the game as unique to any other game.
"The environment differs a lot from other games," Meyer told Spark. "We always do a moment of silence for the people that we have nominated as survivors or are going through it currently." 
East senior middle blocker Madelyn Luers said their new motto shows how they feel about the event. She wants people who are battling breast cancer or have friends and family members who are to know that they are not alone. 
"This year as a team we took on the motto of 'stronger together'. I think that is a great representation of how we all feel about this event," Luers told Spark. "To me it means no one fights alone and that there are people to support anyone battling the fight of cancer."
Dreher says that this is not just any game, but a game against cancer.
"We are motivated by the difference and the impact this has on people around and close to our homes. We have had players, coaching staff, and their families affected by cancer and we are able for just one night to support others that are going through difficult times," Dreher says. "This event teaches our athletes to look outside of themselves and help support others."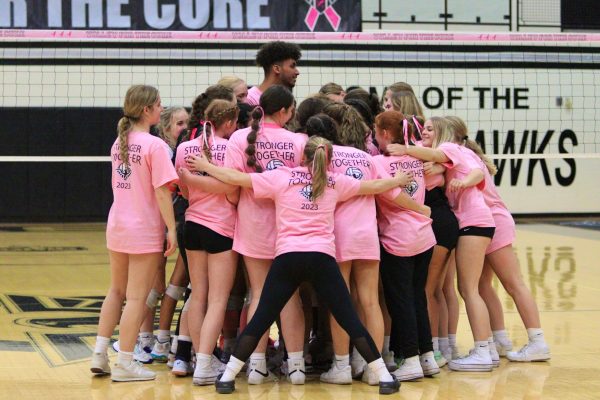 Luers also touched on what the event means to her and that it hits close to home. 
"This event means a lot to me. In previous years it hasn't had such a strong effect on me but this past year I had someone really close to me pass due to breast cancer," Luers says. 
Through tears, middle hitter Breanna Sayles described what it is like to play on a night filled with emotion for her mother who recently passed away from breast cancer.
"I love coming together as a team and playing for my mom," Sayles told Spark. "My emotions were different in this game because I just lost my mom a few months ago and instead of seeing her out in the stands I look out and see nothing." 
Sayles was honored before the Varsity game with a vase of pink roses and a family photo being gifted to Breanna and her family. At this time, the audience was asked to join the Hawks in a moment of silence to honor those who have passed due to breast cancer.