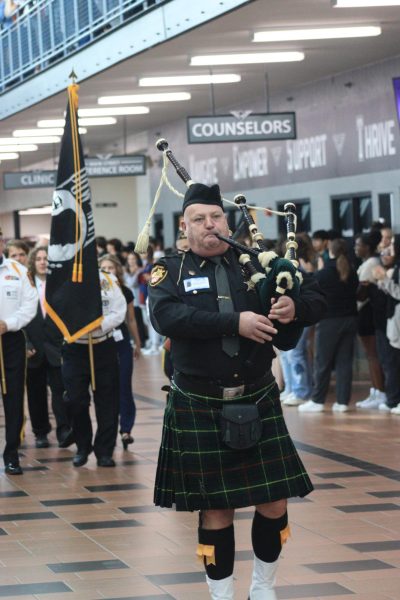 The deep base of drums echo through the gymnasium, setting a focused tone in order for students, staff, and veterans to realize the emotional ceremony that would be presented by Lakota East Veterans' Network and members of the Veterans Club.
On Nov. 8, veterans and their family members gathered in East's innovation learning hub to commence the annual Veterans' Day Breakfast and Ceremony. Members who RSVP'd were provided with breakfast and taken down the building's main street, where students lined up for a parade to show their gratitude for all those who have served the country.
Courage, honor, and loyalty were three adjectives said by veteran Ron Dzikowski when asked to describe what being a veteran meant to him. Dzikowski served in the Navy from 1962-1966 and later went on to receive a Bachelor of Science Degree in Electrical Engineering from Pennsylvania State University.
Ally Thomas was one of five students on the stage during the ceremony, helping to recognize all branches of veterans, signaling them to stand once their branches were called, and introducing the band.
"Honestly, this year surprised me compared to last year," Thomas told Spark. "I think [students] took [the ceremony] more seriously than I thought they would."
The ceremony continued with the Lakota East Choir and Band, performing pieces such as "The Battle Hymn," "Eternal Father, Strong to Save," symphonic prelude, and "Midway March." 
"I thought the ceremony was really good, I really enjoyed it, the music was outstanding," Marine Corps veteran and East maintenance man Roger D. Fields told Spark.
Speeches given by students in East's Veteran's Network, a club founded by students who work to honor veterans on a regular basis, created emotion within the crowd of more than 50 veterans and their family members who they were accompanied by, along with the junior class.
"I appreciate the recognition that we receive for serving, but for me, I thought it was a duty to serve my country, to give back to them for what they gave to me," veteran Paul Kreiner told Spark.