A Show to Remember
Lakota East Spark's annual fundraiser Mr. Lakota East makes a comeback this March after being called off for the 2020-21 school year due to COVID-19 restrictions.
STORY AVA HUENING | PHOTOGRAPHY GRAHAM ALLEN
The spotlight illuminated the stage in the Thunderhawk theater as Nick Rabin karate-chopped a plethora of fruit, sending chunks of apples and bananas flying across the auditorium. This performance was not your average school play, rather it was part of the annual East Spark's fundraiser: Mr. Lakota East. 
Mr. Lakota East is an all-male "talent show" organized entirely by students in Spark, East's student-run news magazine. Contestants are picked for the show through a school-wide survey sent out by Spark. Students are able to vote for their peers that they would like to see compete.
"Spark is all about being student-led. So it's completely on brand that we will have a student nominated cast and crew. It makes it that much cooler because all the students had their respective part in it," executive director of Mr. Lakota East and the Spark business manager Riley Higgins said.
First developed in 2010, Mr. Lakota East quickly became Spark's most profitable fundraiser, generating on average roughly $3,500. This year on Wednesday, Mar. 2, Spark produced their 11th Mr. Lakota East show. Approximately 403 people bought tickets to see the show. 
"[Mr. Lakota East] is everything to Spark. As much as subscriptions and advertising cover our printing cost, we run about $2,055 per issue. In order to keep our subscription prices low and continue to produce at the level we do, we have to have big fundraisers like Mr. Lakota East." Higgins said. 
Last year Spark was unable to produce a Mr. Lakota East show due to COVID-19 restrictions. This put a large strain on Spark's budget and took its toll on their production.
"We were struggling financially a lot last year because of COVID-19," assistant director for Mr. Lakota East Evie Colpi said. "[Last year] we were only able to produce four out of our usual six issues. We were surviving a lot off of our emergency fund we had saved away."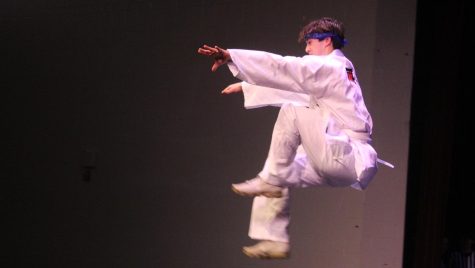 Being able to produce Mr. Lakota East this year was a huge relief to Spark. This year the fundraiser generated a little over $4,000. This money goes directly to Spark to pay the production costs for the magazine. 
Mr. Lakota East not only helps Spark raise money but also raises spirits among students at East. This year, Mr. Lakota East featured a mix of sophomores, juniors, and seniors, adding to 11 contestants in total. Their talents varied from dancing and singing, to impersonating Bob Ross. The winner of this year's Mr. Lakota East was senior Nick Rabin, whose act was playing fruit ninja in real life. 
"I had so much fun, and I am glad I got to be a part of it for my senior year," Rabin said. "If you get nominated, you should definitely accept it because it was a lot of fun and it was a good experience performing in front of a bunch of people."