It's Better Than OK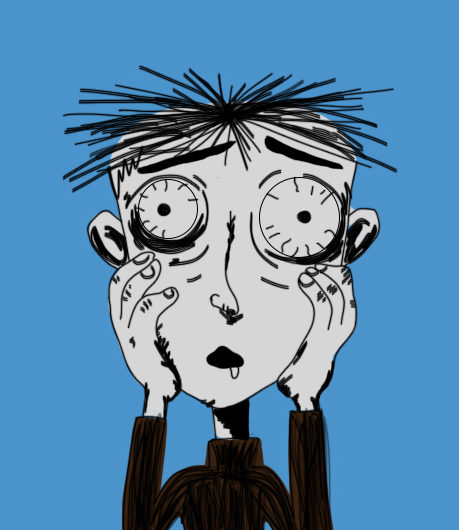 review Riley Higgins | art Mary Barone
Every weekend from June 20 to Aug. 9 in 2020 was marked by the opening chords of "Sketch Book" by Janet Suhh. Capturing attention from K-Drama lovers from around the globe, Netflix's original It's Okay to Not Be Okay (사이코지만 괜찮아) quickly became the most popular show of 2020 in the romance genre on Netflix in South Korea.
The show's writer, Jo Yong, crafted three main leads who carry burdensome intertwined pasts: Ko Mun-Young, Mun Gang-Tae and Mun Sang-Tae. Her creation tells the story of a caretaker, Gang-Tae, and his older brother, Sang-Tae, who struggles with autism and childhood trauma. After a coincidental run-in with children's book author, Mun-Young, the chaos of their new life together began. The pinnacle of their story culminates in one breathtaking plot twist that stayed on my mind for seven painful days until the next episode was released and my demand for answers ended.
This drama demonstrates its individuality by breaking some of the exhausted K-Drama tropes that can be found in just about any show. These refreshing twists, like featuring a strong, wealthy female lead and the inclusion of mental illness, demonstrate its distinct storyline. Though the content included was unconventional, any seasoned K-Drama watcher like myself could recognize the routine plot points that make Korean television distinct.
The careful depiction of Gang-Tae's character along with Mun-Young's personality disorder adds a layer of depth to this drama. While their struggles are foreign to most audiences, their story is incredibly captivating. Director Park Shin-Woo made sure watchers felt the reality of their lives despite the comical and often ludacris lifestyle being far from normal.
An aspect that made this drama masterful was the main characters reliance on each other. Although they were "broken" by other people's standards, their peculiar lives fit together like puzzle pieces and fostered a beautiful story of healing and growth. This fairy tale romance has a consistent horror feel that sets it apart from its lighthearted counterparts currently on Netflix. 
Actress Seo Ye-Ji perfectly portrays Ko Mun-Young's alluring persona. To those around her, Mun-Young is the type of person that you'd want to run away from. Matching her ruthless, antisocial personality, Ko's attire throughout the 16 episodes is nothing short of extravagant. The production team brought in the winner of Netlflix's Next in Fashion, Kim Minju, to design and style the outfits worn by the main lead. Her attire ranges from futuristic cropped blazers to floor length gowns that perfectly encapsulates both modern style and feminine flare.
Seo wasn't the only actor bringing people in as the show features Kim Soo-Hyun who used this opportunity to come back after being discharged from his obligatory military service in 2019. Kim averaged around $165,000 USD per episode, making him Korea's highest paid actor. 
The show features fairytale-like children's books written by Mun-Young's character that mimic events from her life and are used throughout the episodes to show the emotional progression of her character. These stories have art drawn by Korean illustrator Jam San whose work might resemble that of Tim Burton. His gaunt illustrations capture the creepy nature of Mun-Yung's fairy tales. The books were so popular that the producers decided to publish five of them: "The Boy Who Fed on Nightmares," "Zombie Kid," "The Cheerful Dog," "The Hand, the Monkfish" and "Finding the Real Face."
If Netflix wanted to make a hit, they did it with this drama. It's captivating storyline is guaranteed to keep watchers coming back for more.