story by Alexandra Fernholz | art by Kelly Johantges | photography fair use
Amid the stacks of binders, piles of paper, and scattered notes that now make up his at-home office, he opens up his laptop, turns on the document camera he brought home from his classroom, and begins to work. For East chemistry teacher John Severns, this is the new reality of his job after Ohio Gov. Mike DeWine closed all Ohio K-12 schools due to coronavirus concerns. 
On the afternoon of March 12, 2020 DeWine announced that, effective March 16, all Ohio K-12 schools would close through April 3, 2020, meaning Lakota schools would not be in session again until April 6, the following Monday.
Lakota teachers, who, under the direction of Lakota Superintendent Matt Miller, had already been planning to implement a Remote Learning Day that Friday, were given the day to remove any equipment they'd need to begin teaching online.
"It was very chaotic," Severns says. "Teachers were grabbing things left and right. I personally made like three trips out to my car. It's like, if we're going to be back in four weeks, then I need this but not this. If it's even remotely possible that we won't be back for the semester, holy crap, I need lots and lots and lots of stuff."
After returning from spring break, Lakota students began their schooling from home on March 25, 2020. However, before they could return to school that April, DeWine announced an extension of the closure until May 1, 2020 as Ohio's confirmed cases of the novel coronavirus neared 2,000. 
According to Lakota Executive Director of Curriculum and Instruction Andrew Wheatley, Lakota officials were prepared for this change in plans. 
"The Curriculum Department has been planning for an extended school closure since March 9, when the district announced the March 13 Remote Learning day," Wheatley says. "Since March 9, we have been working collaboratively with teachers, building principals and district administration to develop guidelines, resources, plans and processes for both remote learning and remote leadership."
Then, a final announcement came from DeWine on April 20, 2020, extending Remote Learning for all Ohio K-12 schools through the end of the school year, meaning students would not return to their school buildings for the rest of the academic year. 
"Governor DeWine today announced that schools will stay on remote learning for the rest of the academic year, [and] we're going to do that in Lakota the best way we can," Lakota Superintendent Matt Miller told the community on a Facebook Live session just an hour after DeWine's press conference. "It's not perfect. It's not what any of us want to be going on or what we want to happen. But it's necessary, and all of us are doing the best that we can."
Severns says that the new announcement didn't surprise anyone he knew.
"Everyone on the staff has been of the understanding that this was going to go longer than [April 6]- it was always going to go longer than [April 6]," Severns says. "We're making plans for the long haul."
However, an online curriculum means that Severns and every other teacher in Ohio will have to adjust the way they think about their course content. 
"I think the immediate reaction of the teachers is, 'I'm going to do everything I always did, I just have to figure out how to post it online,'" Severns says. "That is completely unrealistic. When the teacher and the student can't interact with one another directly and instantaneously, you just [have to] slow down. You got to focus on what's really important."
A Spark survey of 157 East students found that 35% of students felt they were 'somewhat' able to keep up with their work as well as they would have while at school. 32% said they were not able to keep up, while 33% said they were. 
"One thing that [Mr. Severns] has done that has stood out to me is he has tried to make this unexpected transition to online school as smooth as possible which has helped minimize our stress," East junior Kendall Gerdeman told Spark. "He has done a good job of keeping it consistent to what our class would be like if we were there in person."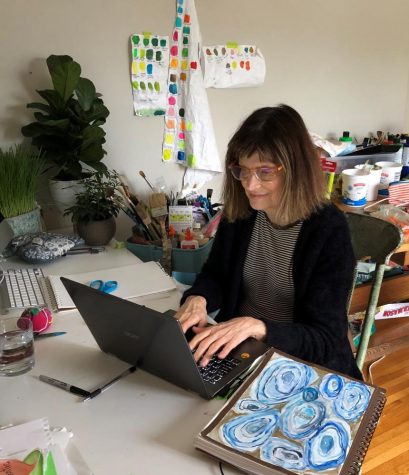 East Calculus and Precalculus teacher Pat Krieder, who has taught at Lakota for 23 years, says the only challenges he's had so far with the online course content have been technology-related.
"The tech issues have been simply with many of my students struggling to open documents and submit their homework successfully," Krieder told Spark. "Some of the apps and devices that operated without a problem at East have struggled at my house." 
According to a Spark survey of 158 East students, 55% had experienced some sort of technological difficulties, ranging from poor internet access to chromebook issues to confusion over how to use technology.
Teachers of the creative arts have had to come up with more unconventional methods of keeping their students occupied.  
"I sent the ceramic students home with clay," East ceramics and photography teacher Karen Saunders told Spark. "When the clay runs out, [I'm] having students design teapots off of [their] favorite song lyric, movie, game, [or] book. [I've been] getting interesting sketches and making for good conversation with students."
For early childhood teachers, whose students remain some of the only ones in Lakota without Chromebooks, online learning presents a different challenge. 
"Each week, we send the parents an email with that week's learning activities, along with any paper resources they may want to use," Wyandot first-grade teacher Nancy Church told Spark. "The biggest challenge for me has been finding online resources to support the curriculum still needing to be taught. This in itself can be very time-consuming."
According to Church, much of the material is things which her students have already learned, but won't need much parental guidance for.
"I have been sending out a reading, writing, math, and word work activity daily," Church says. "The content is all review for the children. I have used many different avenues to implement the curriculum that I need to teach. When we first started remote learning, the children were learning to maneuver through some of the apps for the first time and needed a parent to help guide them."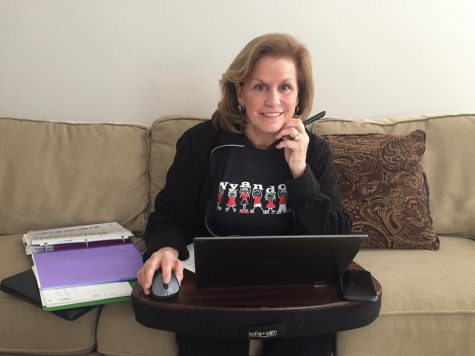 According to a Spark survey of 158 students, 100% said their teacher's use of Canvas had increased over the extended quarantine. 89% said their teachers had also used Zoom, a popular video chat software, to communicate with them.
As of April 6, 2020, the Lakota District reported a total of 1,630 Zoom meetings, 208,000 Lakota OneLogin logins, and over 1.3 million Canvas course hits. 
Teachers of AP classes, like Severns, are also challenged to get their students up to speed for their AP tests during what many regard as the most critical period of time for AP students. Due to the restrictions brought on by COVID-19 concerns, new guidelines have been released by the College Board, which is in charge of the AP tests.
"All subject areas cut back on the amount of material that was going to be covered on the [AP] test," Severns says. "In my situation, there were five topics that we would cover in second semester. [AP has] decided that the exam is only going to cover three of those five topics. However, my students are counting on me when they go to college that they've seen that material. Nearly all my AP Physics students are going to be engineers, and they gotta know this stuff, they just do."
In order to account for these new changes to curriculum, AP has released a series of video classes for each course. Severns has also taken up this idea, making a series of short videos for his AP students to condense the knowledge they need into short bites. 
According to Deana Moss, East Assistant Director of Curriculum and Instruction, this situation is compelling teachers to "reimagine" their old methods of teaching.
"For many, learning is a social experience. Teachers are trying to be creative in finding alternate ways to allow this type of learning to continue in new ways," Moss told Spark. "Teachers are finding ways for students to demonstrate progress beyond just the typical right or wrong answers. The challenge is creating opportunities for the rich discussions."
According to Severns, teachers have been stepping up to the challenge as a team. 
"The teamwork is just tremendous," Severns says. "[There has been] lots of texting going on between teachers. Somebody will send out an email and say 'Hey, does anybody know how to do such and such?' Then the person that does jumps on and takes care of it."
Students too are undergoing their own period of adjustment.
"It's different, that's for sure," East freshman Luma Alammouri told Spark. "It's not really bad, it's just not the same. It's a little harder to ask questions, but not impossible. The worst part is probably not seeing my classmates." 
For chemistry students like Gerdeman, one of the main challenges to an online chemistry course are the labs which used to be done in class. 
"The pace and flexibility is easier overall, but lack of access to the teachers can be challenging," Gerdeman says. "We are used to doing hands-on labs in the classroom, and now we have to virtually do them on our chromebooks which is harder to understand."
According to an East survey of 158 students, 71% of students felt an online education was not equivalent to an in-person one, while 25% of students felt their online classes were 'somewhat' equivalent. 
"It feels more like work than learning," East senior Nkem Azuka told Spark. "I miss seeing my teachers and friends every day, and it's harder to stay focused at home. It's school without all the fun of school." 
Azuka, who takes three AP classes, has disliked the transition to online classes because she feels she's missing an important part of her education.
"Calculus and AP Literature already used a lot of online material, so it's not much of a difference," Azuka says. "French though, French sucks because we need to speak it. It's hard to practice without in-person class. Especially because the AP test is speaking."
According to Wheatley, there are some positive aspects to the situation, however.
"These are very trying times; however there have been some silver linings from this," Wheatley says. "Using virtual conferencing to collaborate has been a big win. My belief is that we will continue to use video conferencing for some meetings that are logistically better to do virtually.  We can't underestimate the power and importance of face to face learning, but our teachers have also had some big wins utilizing digital tools when appropriate. This situation has also spurred great conversations about instruction, grading, and supporting all learners." 
Gerdeman herself has noticed that Severns' teaching ability doesn't stop at the classroom door. 
"Severns is incredibly knowledgeable and a great teacher," Gerdeman says. "He truly cares about each one of his students and pushes us in the classroom to do our best. Not only does he want us to excel in his class, but also wants us to be successful in life."
Severns has found his silver lining in his students. 
"[My students have] been phenomenally patient and I've had some luck," Severns says. "Nobody was prepared for this but I'm doing the best I can and my students have been phenomenally gracious."