story, photography, and infographic by Alexandra Fernholz
Lakota is following in the footsteps of several other Ohio school districts by taking the first steps of a Master Facilities Plan which could have major implications for the district. The plan, which is still under construction, could leave Lakota with new school buildings, changed grade configurations, or no change at all. 
For now, though, Lakota officials are asking questions and examining data to decide how to proceed. 
"You ask more questions than you answer," Board Member Brad Lovell told Spark. "The question is, are we using [our facilities] most appropriately? Are there cost savings efforts that we can put towards them? And do they really meet the needs of what [the strategic] plan says we should be doing?"
The first step of Lakota's Master Facilities planning process involves the district enrolling in the Ohio Facilities Construction Commission (OFCC)'s Expedited Local Partnership Program (ELPP). The program allows Lakota to receive up to 26% of the money spent on a facilities plan which follows the state's requirements, so long as Lakota declares how they plan to obtain the funds, whether by bond issue or by local resources.
"The facilities plan that we're talking about, we're not going to lay out this plan and do it all next year. It is for the sustainability of the next 20 years." -Kelley Casper
Lakota's school board passed a resolution to participate in the ELPP program at their Dec. 9, 2019 meeting by a 3-2 vote, jumpstarting the potentially years-long process. Passing a resolution to participate in the program does not commit Lakota to putting a bond issue on the ballot, nor does it bind the district to any state plan. 
"When I'm looking at an opportunity for 26% to come back from the state, I would hate to see us pass up that opportunity," Lakota Treasurer Jenni Logan said.
Logan explained that the resolution passed by the board does not commit Lakota to a levy in 2020. Instead, Lakota can use some of the surplus $107 million in its treasury toward any facilities plan approved by the board. Lakota's cash balance has more than quadrupled since 2012.
"The state does require us to say that we would go for either a ballot issue or use our local resources," Logan said. "So, in our resolution we have 'and/or' which we'll either seek a ballot issue or use local resources. It's a state requirement if [we] want to participate in the program." 
Funding from the state is contingent on the State Controlling Board Approval. Districts which apply for the ELPP program must raise their share of the funds within 13 months before funding can be released. According Chief Operations Officer Chris Passarge, any funds spent on a Facilities Plan would come from Lakota's General Fund or the Permanent Improvement (PI) Fund. As of 2019, Lakota has had a balanced budget for the last seven years. 
However, Board Member Todd Parnell, who voted no on the resolution, had several concerns regarding the plan.
"If we knew what we were going to do, and we knew what we're going to spend [on the Facilities Plan], that's one thing," said Parnell, who is also a member of the Facilities Committee. "We have no clue. I can tell you I'm not going to support a levy or bond issue with absolutely no plan, no idea of what we're going to spend, and $100 million in cash. It doesn't make any sense."
According to the official language of the document the board passed at the Dec. 9 meeting, the board agreed that "the School District Board intends to move forward with a ballot issue and/or apply other local resources in November 2020." Whether this means a levy or bond issue in the future is up to interpretation. Board Members Parnell and Lynda O'Connor see "levy."
For Lovell, the other member of the Facilities Committee, the decision was a "no brainer," because Lakota would be able to receive funds towards annual upkeep and maintenance projects which begin as early as the summer of 2020, as well as any work on the Master Facilities Plan.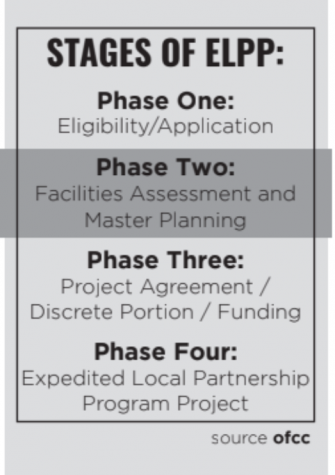 "We're spending $4 million this summer alone on standard updates with funds that are already allocated," Lovell told Spark. "Putting the facilities planning aside, this is a no brainer just to get a million of those dollars back in the future. It's putting the cart before the horse when you look at the facilities planning. However, when you look at our daily operations, it makes logical sense to put [ELPP] in place-we should have probably done it years ago." 
Lakota will not immediately receive reimbursement for expenditures. Rather, the district will get credit for the work completed to the OFCC standard, credit for which the district will be reimbursed at a later date. 
"If it's in our master plan and we do work [on a facilities plan], we will get credit for that work. So when our number does come up, any money invested is credited to us at a future date," Lakota Passarge said. "So it's a combination of short and long term vision: what we need to do now, what we need in the future, and how it's going to be paid for."
According to OFCC Planning Manager Steve Roka, that credit won't be available immediately. 
"[Districts receive their funds] when the district transitions to the Classroom Facilities Assistance Program (CFAP)," Roka told Spark. "When they transition, the credit they've accumulated under ELPP counts toward their local share of the project. That transition occurs whenever they are close enough or the resources have become available for the OFCC to fund their school district."
Of all Lakota's 22 school buildings, (not including the Career Readiness Academy, renamed the Academy) seven are over 40 years old. Both East and West are 22 years old.
Currently, Lakota's facilities plan is still under development. The board is not set to vote on a finalized plan until early summer 2020. However, in order to receive funding, the board is required to approve ELPP participation and submit an application to the state before signing any construction contracts. 
For Board Member Lynda O'Connor, this requirement was flawed in that it put "the cart before the horse." 
"There is no determination on what price of the plan we're going to implement, there's no determination on cost, we're committing to an intent to place a ballot issue on in less than 12 months with no community involvement at this point," O'Connor said at the Dec. 9 board meeting. "I have requested a master plan for some time now but I am very uncomfortable with this process and I can't support it at this time."
According to Roka, this is a "corporately normal circumstance to find ourselves in."
"[The state] don't allocate resources toward planning a school district until they have an application on file with [the OFCC}], we've accepted it and then we understand what the district's timing and need is for their project, as well as how it fits into our overall districts that are waiting in line," Roka said. 
If the district decides not to do any work on a future facilities plan in 2020, they will be able to recommit to the ELPP program again next year.
"The plan is part of the process – it gets the ball rolling on our side," Lakota Superintendent Matt Miller said. "[But] we're not bound to do [ELPP]."
Lakota is one of many local districts to use state funds in recent years to restructure their existing facilities. According to Roka, this is because Ohio's General Assembly has been 'very generous' when allocating funds toward K-12 facilities.
ELPP financing recently allowed Mason City Schools to complete a series of renovations on their existing middle school, open a new elementary school in fall 2019, and reorganize the 10,500 student district into four buildings. 
Mason City Schools, which has been a part of the ELPP program since 2001, has been eligible for ELPP funding since 2013, when the district completed renovations on their high school, early childhood center, and intermediate school. The district received about $34 million, or 80% ELPP funding, for these projects.
"[Funding is based on] a percentage ranking of school districts, and that list is developed by the Department of Education annually," Roka said. "[The list] is based on enrollment divided by the wealth of the school district. So whatever that percentage is at the time the commission serves that district, that's the percentage ratio of state and local [funds] toward the project cost."
Ross, Hamilton, Middletown, Talawanda, and Finneytown have also received ELPP funds toward various facilities-related projects, among other districts. 
At this time, Lakota's facilities plan remains in its early stages. According to Board Member Kelley Casper, it's important the district keeps "the big picture" in mind when coming up with ideas for the plan.
"The facilities plan that we're talking about, we're not going to lay out this plan and do it all next year," Casper said. "It is for the sustainability of the next 20 years. We don't have a $100 million facilities plan right now. Unless you're all keeping it from me, because I haven't seen it."
Much board discussion has regarded the data collected from Lakota's enrollment and demographic studies. 
"The first few meetings we had for the facilities meeting, we were just looking at data," Lovell said. "[We're having] the conversations around the data to help make informed conversation around what might be a possibility in the future. [Right now] it's more about the questions than it is about the answers."
The beginning stages of a facilities plan involve an assessment conducted by the state of all a district's individual buildings. According to Passarge, the physical walk through of Lakota buildings by state personnel was last done in 2008, at the time of the district's last master facilities plan.
"[In 2008] it was more about looking at facilities [and] best practices," Passarge said. "We mainly looked at what we need to do to update our buildings. We didn't look at replacing buildings or doing different things. Sort of a mini version of a master plan."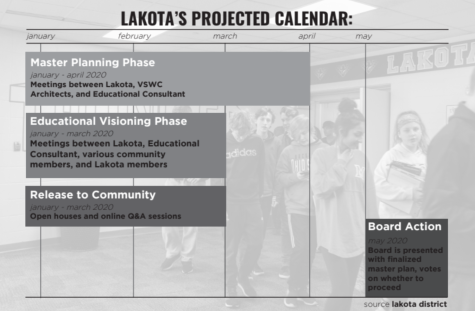 According to Passarge, for Lakota's 2020 master plan, the state completed an estimate of what updates Lakota's buildings would need rather than physically visiting the buildings based on the work Lakota has done in the past 11 years. This time, Lakota wanted to think bigger based on the 2019-2021 strategic plan passed in December 2018. 
"We haven't really looked at [facilities in] a long time. Education is changing and facilities should match the education program," Passarge said. "So there's a lot of crazy creative things you can think about for this whole process – that's where it's fun."
Now that the board has approved Lakota's participation in the ELPP program, the district will proceed with the next step in the process: getting community feedback. 
From January to late February, the district is planning a series of small community focus groups to gauge community interest in various ideas and come up with a few new ones. 
"We will engage many different groups from [students] to retired people to business people to parents," Casper said. 
Based on input from the focus groups, the district will work with Educational Consultant Tracey Richter to create Lakota's "Educational Vision," which will be presented to the board in early March 2020.
Then, the district will work with Mason-based company VSWC Architects to assemble a Master Facilities plan for the district. Along the way, updates will be given at board meetings regarding the progress of the plan. 
But for now, the board is still asking questions to determine in what direction the district should take its buildings.
"There's so many questions," Lovell said. "It's gonna be a wild ride this spring."