Moving up
The Ohio High School Athletic Association announced their new division breakdowns for many sports and explained what competitive balance is.
STORY Audrey Allen
PHOTOGRAPHY AUDREY ALLEN | INFOGRAPHIC COLIN KUNZ
The Ohio High School Athletic Association (OHSAA) announced the new divisional breakdown using enrollment data provided by the Ohio Department of Education to determine each school's base enrollment numbers for girls' and boys' sports, which will be used for the 2022-23 and 2023-24 school years.
The fate of all Ohio school sports teams relies on the 11 people who comprise the OHSAA Board of Directors. These important people, elected by the membership, annually approve sports regulations. They create regulations for all sports every year, including which sports get sanctioned by the OHSAA.
For the first time, the OHSAA's spring sports will include boys' volleyball. There will be two divisions of boys' volleyball due to the spike in the number of schools now having a team, which went from 85 to almost 160 schools since the OHSAA announced earlier this year that it will sanction the sport.
East junior Carson Hill plays boys' volleyball for the school and loves that the OHSAA is including boys' volleyball.
"Boys' volleyball is a very rapidly growing sport, and it has been around for a long time," Hill told Spark. "The more recognition it gets by the state, the more popular it will become."
Hill also agrees with the OHSAA putting two divisions for boys' volleyball.
"I totally agree with there being two divisions. I believe they are placed in a division based on how big their school is, and I totally agree," Hill says. "Moeller is a powerhouse, and they should not be in the same division as a smaller school like Chaminade Julienne."
Among the OHSAA's sports, baseball, softball, basketball, soccer, volleyball, and football use competitive balance data and are reconfigured every season. Sports that do not utilize competitive balance data, including golf, girls' tennis, field hockey, and cross country, are reconfigured every two years using only base enrollment numbers.
East Athletic Director, Jill Meiring, believes the way divisions are divided is fair for some schools.
"I think divisions are equal and fair, for the most part. I think competitive balance does less to affect larger schools but is more of an issue for smaller, non-public schools. Often times, with competitive balance, the size of the school doesn't matter," Meiring told Spark. "It's the number of athletes that play for the school team or the amount that come into the school from outside the district. As Lakota East is a big school, I do not foresee the new divisional alignments affecting us at all. We always have and always will be a Division I (D1) school."
Competitive balance takes into account residency, systems of education, feeder schools, transfers, and several factors determining enrollment. Voted in place by the OHSAA member schools in May 2014, Competitive Balance is a process that makes modifications to how schools are placed into tournament divisions in the team sports of baseball, softball, basketball, soccer, volleyball, and football. The modifications are based on which students are actually on each respective roster. The roster data collection takes place in ArbiterGame within the 'Students' tab, and the data is entered by each respective athletic administrator or his/her designee. There is a window either near or after the conclusion of each season when roster data is required to be entered and a deadline date when all roster data must be received. Failure to submit roster data may result in penalties as determined by the OHSAA. Refusal to submit roster data or falsification of roster data may result in removal from the OHSAA tournament.
East boys' lacrosse Head Coach, Steve Burkhardt, believes lacrosse should have competitive balance in place.
"Just because the school has a large number of males/females enrolled does not mean they have large numbers of players for the teams," Burkhardt told Spark. "There are some schools who can barely field a varsity team yet get put in D1. They cannot compete with the schools who have 60-90 players trying out for lacrosse. Player numbers and team sizes should be taken into account when deciding divisions. Since the divisions are based on male/female enrollment numbers, I think having a cut-off number is fair. However, that number needs to be reevaluated at the times the divisions are reevaluated."
Anderson High School is one of the many schools that changed divisions for boys' lacrosse moving from Division II (D2) to D1. Ross High School is another school with many sports moving up from D2 to D1 in boys' soccer, girls' volleyball, and baseball. Monroe moved from D2 to D1 in boys' soccer and baseball.
Ross Athletic Director Justin Beck does not believe the OHSAA divisions are even/fair for all schools.
"Specifically, the difference in enrollment D1 puts many schools at a distinct disadvantage when it comes time for the tournament. For example, this year, we have been moved up to D1 in every sport except for football, where we are now D2. When looking at some of the enrollment figures, it is clear we are at a disadvantage," Beck told Spark. "Our enrollment for boys is 387 and for girls is 363. Mason has enrollments of 1300 boys and 1251 girls. The difference between the largest and smallest school in the other divisions is nowhere near that large."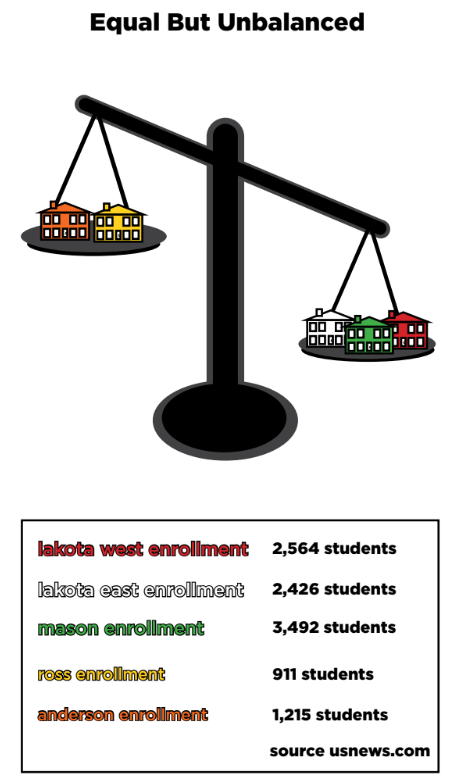 East boys' soccer played Ross' boys' soccer for the first time since Ross moved to D1 in the opening round match of the tournament and won 3-1 with East seniors Jad Qaqish, Khaled Eid, and Jacob Nguyen scoring goals. East senior Gavin Hook is one of the captains on the team and enjoyed his time playing against Ross.
"It was a very fun and thrilling experience playing against Ross, it's always a fun time to start a new chapter of the season with the first game of the tournament, and it's always something to look forward to," Hook told Spark. "Ross was a very good team and a good challenge for us to go up against. They were a tall, athletic team, although they were very impatient with their passes. I was feeling very calm and collected playing against Ross, they seem to always aim for their striker #7, so if we watched him and took him out of the game, it would be a very light and relaxed full game which it was."
Even though Ross moved up, Hook believes they will eventually return to being a D2 team.
"I think it was clear that Ross should have moved up from D2 because they could compete with us D1 schools. However, I think in the long run they will slowly fall back to D2 just from the seniors they lose and their style of play being more aggressive and less patient and precise," Hook says.
Hook also believes it was fair to move Ross up to D1.
"I think if a team had a year like Ross with their record winning nine games and absolutely owning their league; Yeah, I think it was fair to put them in a game against a higher talent team to see what they are made of and to see how far a small school like them could have gone," Hook says.
Beck says that even after moving up a division, the student-athletes are not deterred.
"Our teams understand moving up a division in tournaments certainly makes our postseason path more difficult. However, that does not deter our student-athletes from working as hard as they can," Beck says. "One of my favorite sports quotes is 'Surrender the outcome.' That expression does not mean that we are apathetic toward the score of the game or our performance in the tournament. Instead, it just means that we cannot directly control the outcome- we can only control the factors by which the outcome is determined, ie. our conditioning, our preparation, our practice habits, our discipline, and our execution."
Burkhardt suggested that the OHSAA "should explore separating public and private schools into two separate tournaments similar to other states."
Georgia, Louisiana, New Jersey, and Texas are some states that separate public and private school teams.
In Georgia, beginning in 2012, private schools in the state's smallest classification, 1A, or schools with 520 or fewer students, compete in their own playoffs. Before that, Georgia used a 1.5 enrollment multiplier formula for private schools from 2000 to 2008. Other qualifiers for Georgia private schools include: Single-sex schools have their enrollment doubled for classification purposes. Schools whose enrollment is more than 3 percent out-of-county students are moved up a class. Schools also can request to move up in class.
In Louisiana, public and private schools were divided into different classifications in 2013. Several votes to reunite the two sides have all failed, including the most recent one in late January. As it stands, the more than 400 state schools are divided into nine classes and divisions based on each school's student enrollment. Classes are for the public schools, while divisions are made up of private schools. Schools with single-gender enrollments have their enrollment numbers doubled for classification purposes.
New Jersey's non-public schools play football in their own conference. Non-public and public schools can still play each other during the regular season, but only if both teams agree to the matchup.
In Texas, there are separate associations for public and private schools, though two all-boys schools (Dallas Jesuit and Houston Strake Jesuit) were granted into the public University Interscholastic League (UIL) after extensive court battles. In 2011, the Texas Senate voted to allow private schools to join the UIL except in football and basketball.
Beck suggests that the OHSAA should consider making another division.
"I understand that there is likely not a perfect solution to the issue in D1 (for three and four division sports) would be to make another division that includes all schools with enrollments between 300-600," Beck says. "This would create legitimate postseason opportunities for schools that just barely fall into the D1 category under the current model. Currently, schools in that 300-600 enrollment window have a very difficult time winning a single tournament game, let alone make a deep postseason run."
Although Ross student-athletes have a disadvantage, they are controlling what they can control.
"It is hard to say what direct impact the athletic division has on our school. Regardless of what division we are in, I know our student-athletes and coaches are doing everything they can to get better and have the best season possible," Ross says. "We talk about it all the time- control what you can control. We understand that the current division model is not to our advantage, but we cannot control that. Instead, our focus remains on getting better each day."