More than a Hashtag
story by Mia hilkowitz | photography fair use
"Hands up." 
"Don't shoot." 
The Cincinnatians chant the phrase for hours, their voices echoing throughout the city. As the over 4,000 protestors march down Vine Street holding their handmade signs over their heads, they demand a change.
On June 7, 2020, the streets of downtown Cincinnati were flooded by demonstrators protesting police brutality in response to the highly publicized death of George Floyd. The protest was one of many in the Cincinnati area following his death, and in response, a citywide 10 p.m. to 6 a.m. curfew was instituted from May 30 to June 8. On May 25, 2020, Floyd, a 46-year-old black man, was arrested after using an alleged counterfeit bill at a grocery store. After being handcuffed and restrained on the ground, Minneapolis police officer Derek Chauvin knelt on Floyd's neck for 8 minutes and 46 seconds, according to the New York Times. Floyd died shortly after in police custody and a private autopsy report declared the death a homicide by mechanical asphyxia. 
Videos showing Floyd pleading, "I can't breathe" as Chauvin pinned him down have sparked outrage and unrest in all 50 states. Worldwide protests and initiatives, in countries including the United Kingdom, Canada and New Zealand, have ensued as millions call to fight against police brutality and to support the Black Lives Matter movement. 
Among the thousands of protestors in Cincinnati on June 7 was East junior Camille Heard. She attended the protest with her sister, mother, and a family friend. For Heard, taking part in the protest meant more than just marching down the street.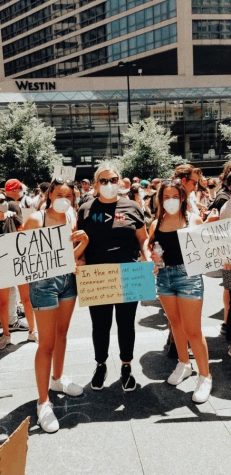 "I am biracial myself, and being half black it meant a lot more knowing that this is my community," Heard told Spark. "I'm using my voice to speak up for others who may not have had the chance to go down [and protest]."
When Heard first arrived downtown at Fountain Square, she was nervous. According to eyewitness accounts by the Cincinnati Enquirer, on May 30, 2020, the Cincinnati Police deployed tear gas after protesters began throwing water bottles at officers. After seeing videos of other protests across the nation that ended with tear gas and rubber bullets, she was worried for what the next few hours would bring. 
"On every block there were police and [more] police cars," Heard said. "It was almost intimidating walking by them."
But Heard's anxiety slowly faded away over the four hours she was downtown, the memory of a former friend telling her she wasn't "black enough" continuing to push her forward. Heard carried a poster reading "A Change is Gonna Come" down the streets. 
"My mom, her friend and I were closer to the police, so it [made] me a little more nervous," Heard said. "[That feeling] started to go away as I gained the strength to say the chants and hold my signs up, and I definitely felt more empowered and strong when looking at the police."
East junior Kaleb Flood is using another method to educate his peers and share his experience: social media. For several weeks, Flood has been reposting information on the Black Lives Matter movement and participating in social media challenges such as "#blackouttuesday," where users post a black square to stand in solidarity with the Black Lives Matter movement. In another Instagram post, he shared a picture of himself with the caption reading "We are black men," and explaining why he and other black men need to support each other, then tagging others and challenging them to repost the same message. 
"Social media is a great platform that can be used to communicate to others," Flood told Spark. "Most students don't watch the news, so using social media to get the message out to young people is the best option."
According to a Spark Instagram poll of 195 community members, 96% of respondents say they have seen posts about the Black Lives Matter movement in the last month, while 74% say they have posted on their own social media accounts about the issue. 
For Flood, the recent killings of African Americans like Floyd have had a major impact on him and his family. 
"It's made my family and I even more cautious around people and the police," Flood said. "We've always been told to do what the police say when pulled over, but now that it doesn't matter what you do, all we can do is hope."
According to the same Spark poll, 45% of respondents say they do not feel safe around the police. 
Although these issues are not new to Flood, he believes that the widespread protests and calls for action are influencing a broader range of people. 
"The events have given a new perspective for people who are not familiar with police brutality and racial profiling," Flood said. "Educate yourself over police brutality and racial profiling. If you can, go out and protest, but be smart. Post on social media, talk to your friends about what's going on. Communication is key to getting through this."
According to the same Spark poll, 71% of those who responded have either signed a petition or contacted a local/state representative about issues surrounding police brutality. 
According to Holly McGee, Associate Professor of History at the University of Cincinnati, there is a long history of police brutality against African Americans in the U.S. This includes the formation of the police force in southern states meant to preserve the slavery system, and series of laws called "Black Codes" in the late 1800s and later "Jim Crow" laws in the mid 1900s. These were a series of restrictive laws meant to limit the freedom and rights of African Americans. 
"The policing of black bodies in the U.S. extends back to the 17th century," McGee told Spark. "There have been laws that are all about returning black people to a position of second place citizenship."
McGee recalls her own experience growing up in Arkansas at a majority white school when the Rodney King verdict was announced. In 1991, King, a 25-year-old black man, was arrested for leading a high-speed chase through Los Angeles while under the influence. When ordered out of the car, several LAPD officers beat King with batons for 15 minutes. The arrest left King with skull fractures, broken bones and permanent brain damage. The encounter was filmed by a bystander with an at-home camera.
"When they turned the TV on [at school] and we were watching it, it was quiet," McGee said. "I remember when they announced the verdict that those white officers were innocent of having beaten this man, there was a collective cheer at my school. There were claps and [people] high fiving in the hallway."
"It's made my family and I even more cautious around people and the police. We've always been told to do what the police say when pulled over, but now that it doesn't matter what you do, all we can do is hope."-East junior Kaleb Flood
McGee says that the verdicts for King's case, like so many others, have had one major effect on the George Floyd protests. 
"The only influence that these previous social socio-political movements have had on the George Floyd case and on this issue is that those largely failed black America," McGee told Spark. "There was a lot of tension, passion and upset, and it resulted in nothing. Here we are, 30 years later and the police are still believing that black lives are expendable."
Flood says that how he feels around a police officer depends on the situation. 
"When I'm at a restaurant or grocery store and I see a police officer, I feel safe," Flood said. "But when pulled over or stopped by a police officer, I do not feel safe."
There have been numerous high profile cases similar to George Floyd over the past decade. This includes the killing of Ahmaud Arbery, Breonna Taylor, Eric Garner and many more. According to data from Mapping Police Violence, a research organization that collects data on the police force in the U.S. 1,945 black people were killed by police action from 2013 to 2020, 336 of whom were unarmed. According to McGee, this particular killing was the "tipping point" of the movement because of the evidence to support the case. 
"Why George Floyd? Why not Sandra Bland? Why not Trayvon Martin or Michael Brown?" McGee said. "One of the big differences with George Floyd is that there is video evidence. It's one thing to have to hear about it, but you have to watch and you have to listen to him sputter and beg for his mother and it would have cost that officer nothing to lean back."
According to a Pew Research center survey, three out of five African American men say they have been unfairly stopped by the police because of their race. 
McGee says that another major difference between the George Floyd protests and former social movements comes down to "Generation Z," the generation of people born from 1997 to 2012. 
 "The big difference between young people and old people is that the young people are sick and tired of being sick and tired," McGee said. "It's the exact same thing that happened during the Civil Rights Movement. In the Student Nonviolent Coordinating Committee [there were] a bunch of young college kids who said 'no, we've been waiting since my grandma's time to be free.'"
East Class of 2020 Alum Leo Rolfert agrees that the younger generation is a monumental force in the Black Lives Matter movement. 
"We can stay together and make good changes because this is the world that we're going to grow up in, and for the past few years it feels like it's been going back in time," Rolfert told Spark. "[Right now] we're the generation that's making the largest impact with all of the things that we've been able to do."
Rolfert has celiac disease, an autoimmune disorder triggered when one eats gluten, which weakens his immune system and makes him more susceptible to illness. As a result, he cannot attend protests with larger crowds especially due to the ongoing COVID-19 pandemic. As a way to contribute to the cause, Rolfert and a group of other East students have been making and distributing supplies to protestors attending Black Lives Matter demonstrations. This includes collecting non-perishable snacks, water bottles, tear gas solution for peoples' eyes, and even 2×4 plywood shields meant to be worn as backpacks and to shield against rubber bullets. 
"It makes me feel so much better knowing that I'm not sitting here doing nothing," Rolfert said. "I hate that I can't be there, but it makes me feel better knowing that I'm helping keep [protestors] safe and being able to continue on with what they're doing."
Another student ally taking action in the Black Lives Matter movement is East senior Tiffany Nyugen. Nyugen attended another Cincinnati demonstration on June 1, 2020 which was the first time she had ever attended a protest.  
"The Black Lives Matter movement is really important to me, and the fact that it is still an issue today has made me really want to help make a difference in this world," Nyugen told Spark. 
One moment during the protest that stood out to Nyugen was when a group of white protestors linked arms to form a barrier between the people of color in the crowd and the police. The moment reflected Nyugen's view that people of all races should be allies for the cause. 
"Even if you aren't black, it's important to stand up and stick up for each other," Nyugen said. "Especially those who have the privilege to be able to stand in front of the police like that. It's important to protect people of color."
According to data from the online survey research firm "Civiqs," a division of publishing organization Kos Media, 52% of U.S. voters support the Black Lives Matter Movement, a 10% increase from the beginning of March 2020. 
East junior Jessica Taylor feels encouraged when she sees allies of different races supporting the Black Lives Matter movement and her black community, something that she says she has not always received. Still, Taylor is optimistic that the protests and events of the last month will open the eyes of others to an unfamiliar reality. 
"I think that students will be more aware of what happens to [black people] on a day to day basis," Taylor said. "When I see the [killings], I think about my family. Am I next? Or is it one of my family members. Are they going to be next?"
According to a Spark Instagram poll, 91% of survey takers support the Black Lives Matter movement. 
East senior Ethan McCracken attended protests in Minneapolis from May 29 to 30 in the midst of large riots and lootings of stores in the city. While McCracken was initially supportive of the movement, these events and calls from several protestors at the demonstration for a communist government swayed his views.
"I agree with the overall message of [the Black Lives Matter movement] that there still is institutional racism, but I think the way we solve it is completely different," McCracken said. "It's straight up communist. [Some protestors] want to tear down the system to put up their own system that isn't any better."
At the protest, McCracken was handed a flyer from a group called the "Revolution Club," an organization out of Chicago calling for a communist uprising and a "revolution" to dismantle the current government. The "Revolution Club" is not officially affiliated with the Black Lives Matter organization or the specific protest. 
"A lot of the ways that they want to take the country is probably the worst way to go," McCracken said. 
East senior Elijah Willis is a supporter of the "All Lives Matter" Movement, which argues that all human lives should be given equal attention regardless of race. The phrase "All Lives Matter " is generally considered a counter to "Black Lives Matter," but Willis says that he still supports the message of the Black Lives Matter Movement.  
"I support All Lives Matter, but I think right now in this current situation that black lives matter and we need to give all the attention that we can right now to that movement," Willis told Spark. "The [All Lives Matter Movement] is more of what [we] need to be focused on at [this] time."
Willis says that there are often misconceptions about supporters of the All Lives Matter Movement. 
"Most people think that [supporters] are not willing to support the Black Lives Matter Movement," Willis said. "They're stereotyped as being racist, or stereotyped as being someone who doesn't care about other people of color."
After posting some of his views on the recent nationwide protests, Willis says that he received backlash from some of his followers. 
"All the backlash I get, I try to explain myself and try not to be as ignorant as possible," Willis said. "I'm trying to be an intermediary. More people like myself are trying to be more [in] the middle and bring ideas from both sides together."
According to a Pew Research Poll, 29% of adults say that they "somewhat support" the Black Lives Matter Movement. 
Even with opposing views, Heard says that she has seen a shift in the public's support towards the movement and black community, even on a local scale. 
"I have definitely seen a lot more outpouring of support and love towards the community," Heard said. "More students are going to want to talk about [the issues] and educate themselves and other students. It's more than just a hashtag, it's a movement."