reporting by Regan Denham | story by Natalie Mazey | videography by Brayden Barger
Once a month, IKEA is not just the place where people can buy anything from swedish meatballs to coffee tables.  After climbing up the escalator, one will find a Principal from the Lakota district in the resturant, surrounded by students eagerly listening to the Principal reading stories.  The event, dubbed Storytime with a Lakota Principal, works to bring the community together in support of early literacy in a relaxed and comfortable environment. 
Creekside Early Childhood School Principal Linda Pavlinac was the featured principal at October's event, bringing pumpkins for the kids to decorate as well as reading some of her favorite Halloween-themed books. Pavlinac, who taught first grade at Winton Woods for many years, enjoys sharing with kids from around the district.
"I really love to read to kids," Pavlinac said. "So I'm very happy and excited that I can be a part of this event, and give back to the community."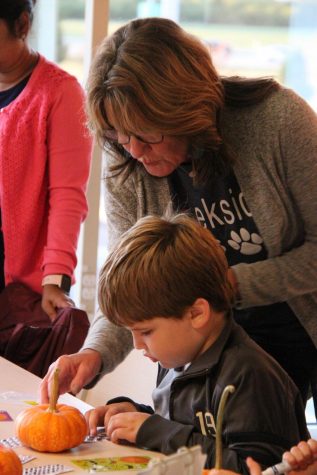 At the beginning of the school year, early childhood and elementary Principals across the district were approached by Matt Miller about their interest in participating in the program. VanGorden Principal Gail Allshouse, a former reading teacher, was eager to reach out to her community when she volunteered at the September event.
"I think it's a worthwhile program that allows [people] to meet various families from across the district and hear about their background," Allshouse said. "[As well as] their aspirations for their own children and their impressions of Lakota." 
According to Allshouse, by holding this event at IKEA, conversation and interaction are able to flourish because the environment at IKEA is much different from the environment students, parents, and principals are used to interacting in at school.  
"The environment lent itself to be casual and comfortable," Allshouse said. "I believe the parents and the children were comfortable being there, and I was comfortable with them." 
Through taking the time outside of the school day to invest in students and their community, Principals like Pavlinac can show parents their investment in every child's education.  According to Pavlinac, this program is able to do just that.
"We are very invested in the community," Pavlinac said. " And we want them to know that we're a part of their community."
After students had spent a few minutes decorating their pumpkins, they gathered in front of Pavlinac to listen to stories like There was an Old Lady Who Swallowed Some Leaves and Skeleton Meets the Mummy.  As Pavlinac encouraged the kids to actively participate in the story, exaggerated "achoos," silly faces, and laughter echoed around the room.
According to Diversity and Inclusion Officer for Lakota Outreach Diversity and Inclusion (LODI) Aisha Moore, strong relationships benefit student's learning and the storytime is able to help reach that goal. Moore said busy schedules don't always allow for one on one interaction with students and their principals.
"It builds community, [allows you to] get to know the parents, and the kids get to spend time with their Principals outside of school," Moore said. "It makes that bond that makes education successful."
Pavlinac said how holding a position of authority in the school system can sometimes make it seem as though Principals aren't like everyone else.  Events like this are working to change that, showing both students and parents alike that their principals, like Pavlinac, are normal people, just like them.
"We are very invested in the community and we want them to know that," Pavlinac said. "By coming out into the community and meeting [students and parents] in places that they're already comfortable with just makes us more, you know, like regular people."