Boiler Up, Hammer Down
East senior Charlie Kenrich received 21 college offers but selected Purdue University as his new home.
STORY BEN STOWE
PHOTOGRAPHY RILEY HIGGINS
INFOGRAPHICS EVIE COLPI AND MARY BARONE
The scoreboard reads 27-27 with less than eight minutes left in the fourth quarter. The East Thunderhawks possess the ball, knowing that if they don't score on the current drive, the Week 6 battle against Sycamore on Sept. 24 will be the end of their four-game win streak.
After limping off the field earlier in the game with an ankle injury, East senior football player Charlie Kenrich lines up in the backfield as a wingback — blood dripping down his forearm.
As the ball is snapped, Kenrich charges down the field. Senior quarterback TJ Kathman drops back looking for any sort of miracle to present itself.
Kathman finds this miracle in Kenrich in the endzone, tightly covered by three Aviator defenders. He decides to let the ball fly and trust Kenrich's ability to perform under pressure.
The pass is snatched and brought down by Kenrich for a Thunderhawks touchdown. After a long defensive drive which kept the crowd on the edge of their seats and ended in a turnover on downs, this touchdown turns out to be the game-winner. This is just one of many examples of Kenrich's character.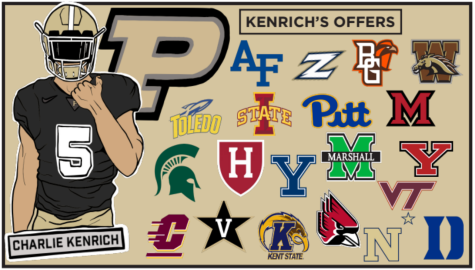 For years, Kenrich has been known by his teammates as someone to look toward and depend on. His intensity on the field is infectious. East running backs coach Carl Longworth has seen Kenrich's character firsthand.
"Simply put, Charlie is selfless and humble," Longworth says. "He puts the good of the team above himself. He will do anything asked of him and never complain. Because of that, I think he is trusted and more importantly respected by his teammates and coaches."
This selflessness was showcased in East's 54-21 victory against Hamilton in Week 4 on Sept. 10 when Kenrich played out-of-position. Kenrich normally plays running back, and occasionally linebacker, but ended up playing safety for part of the game because it was what the team needed.
Kenrich's ability to play anywhere on the field earned him offers to play not only offense but also some to play defense. Although he plays running back in high school, he is mostly getting recruited as a tight end in college.
Purdue is among these colleges. Kenrich says he was followed by some of the Purdue coaches on Twitter in late February of this year and was contacted shortly after. This followed his junior season in which he averaged 7.4 yards per rush and 22.3 yards per reception.
Kenrich's coaches attribute his success to not only his talent, but his work ethic.
"I wish more players had his work ethic," says Longworth. "Charlie is extremely hard working."
This is a player who is humble and treats everyone on the team with respect. He is often seen walking around before practice, sharing his positive attitude with a wide range of his teammates, from the scout team players all the way to the varsity starters.
"He has all the physical characteristics such as size, strength, and speed, but probably more importantly he has heart," Longworth says. "Coaches talk about a player's 'motor', which motivates them or makes them go. Charlie has a high motor. There is no quit in him."
Kenrich's work ethic does not begin and end with the season, it continues throughout the entire offseason.
"I take not taking any days off seriously," Kenrich says. "I'm always doing something to get better everyday in the off-season even if it means just stretching or lifting and running."
The East running back has been a standout in the Greater Miami Conference (GMC) since his first year on varsity, his sophomore year. Since then, he has amassed more than 1,000 rushing yards and 600 receiving yards.
It is common to hear opposing defenses calling out Kenrich's number and emphasizing his position on the field. In East's victory against Sycamore, defenders were heard yelling "Five! Five! Five!" and seen shifting to his side of the field multiple times.

As of Week 9 of the 2021 season, East has a 7-1 record and is on a seven-game win streak averaging 36 points per game.
East Athletic Director Richard Bryant has seen a lot of talent in his twelve years in the role but says Kenrich stands out.
"Charlie is an exceptionally hard worker and a very gifted student athlete," East athletic director Richard Bryant says. "When these are combined, you have a high caliber Division I recruit."
Iowa State, Michigan State, Yale, Air Force Academy, Naval Academy, Vanderbilt, and Virginia Tech were all among the 21 offers Kenrich received to continue his football career in college. For Kenrich, Purdue University outweighed all other options.
"I chose Purdue because after visiting a couple schools I found that I felt the most wanted by the coaches there and super comfortable while there on my visit,"  Kenrich says. "It was a pretty tough decision because I loved a couple of the schools who were interested in me, but Purdue felt like home."
Kenrich says he would like to study either exercise science or business. If he goes into exercise science, he plans on becoming a personal trainer.
"I am extremely proud of Charlie,"  Longworth says. "I have coached a lot of players over the years and have had others receive Division I scholarships but I think Charlie is the most deserving. He's just an awesome student-athlete to be around and I am fortunate to have been his coach the last three years. I wish him all the best in his next chapter."