story and photography by Alexandra Fernholz | additional photography by Riley Higgins
Jan. 18, 2020 marks the ninth year since busing was available to Lakota high schools. However, due to a recent board decision, this situation is set to change.
On Nov. 18, after nearly 30 minutes of debate, the Lakota Board of Education voted unanimously to reinstate busing to both Lakota freshman campuses starting in the 2020-2021 school year. The plan, which was formally presented to the board at their Oct. 28 meeting, calls for an estimated $2.7 million dollars to fund the reintroduction of busing for Lakota freshmen. 
"I'm in the community. I hear people talking – people want transportation," Board Member Brad Lovell told Spark. "[Busing has] gotten some momentum because we have such a strong cash balance. There's really no reason why we wouldn't be doing it right now."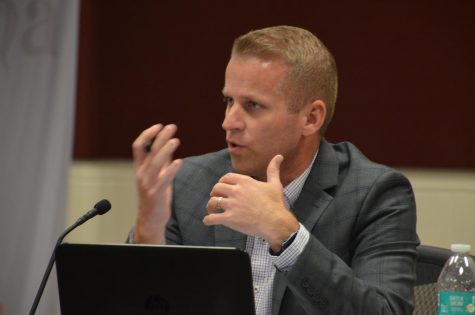 For Lakota freshman personnel, this comes as a relief. 
"Just about every year I get a number of questions, concerns, complaints about the fact that we don't have busing," West Freshman Assistant Principal Jason Jackson said. 
The board was originally forced to cut busing down to state minimums in 2011 after the Nov. 82, 2011 levy failed with 53.46%of votes against the levy. The failure of that levy forced the board to cut the budget by $12 million, eliminating staff members, classes, and busing to the high schools. 
"[The board] wanted to keep as many dollars geared toward the classroom as we could and not have to cut more staff than we did," said 12-year Board Member Lynda O'Connor, who was on the board at the time of the levy fallout. "That's why we made the cuts that we did. It was really hard."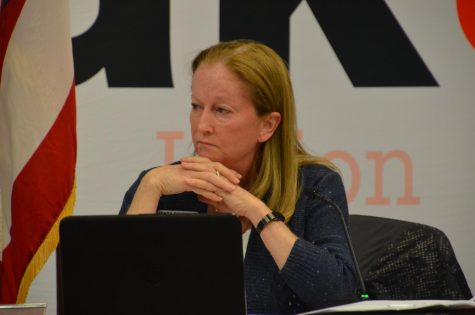 Since that time, high school busing has been an ongoing question for the now 16,500 student district, the largest suburban public school district in southwest Ohio. Currently, Lakota transports more than 9,900 students to 18 different K-8 buildings.
2019 marked Lakota's seventh consecutive year with a balanced budget. Additionally, the district has a surplus cash balance of more than $107 million, a balance which is conservatively projected to grow up to $111 million by 2021. This cash balance has more than quadrupled since 2012. 
"[Lakota is] pretty healthy," Lakota Superintendent Matt Miller told Spark. "Our finances are probably the best they've ever been in a long time or maybe they've ever been. So financially, [busing] was something viable that we could look at."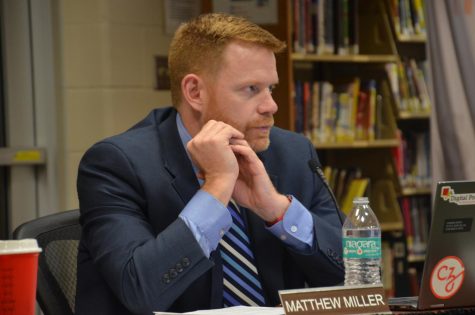 In light of Lakota's improved financial situation, the board surveyed over 4,800 parents in the district. Over 86% of freshman parents and 87% of sophomore parents surveyed said they'd use the service if it were provided. However, only 57% of junior parents and 34% of senior parents responded that their students would use the service. According to O'Connor, these survey results may be higher than any actual usage rates. 
"If I were a parent being surveyed I'd say yes [because] I'd like to know I had the busing option," O'Connor told Spark. "So even though that number was what it was, I'm not sure that it would not be lower than [the number in the survey] in actual usage. Because families want to have those options and that's understandable."
For East freshman Julisa Muñoz, the decision came just one year too late. 
"When I first heard of [the board reinstating busing], I got kind of mad. [I've] had to change my sleep schedule, and my parents had to accommodate the fact the fact that they had to drive me," Muñoz said. "Not only does my dad have to change his routine, but my mom has to go into work super early so that she can pick me up from school. I don't think that's going to be easy to keep up with for three more years."
Five possible busing plans were presented to the Board at the Oct. 28 meeting, though on Nov. 18, only three of those options were laid into a scenario with Lakota's five-year forecast. 
The freshman-only busing plan estimates an annual cost of $1,870,000 for the transportation of all Lakota freshmen. The plan also estimated an additional cost of $825,000 for the transportation of area private school freshmen, whom Lakota is required by state law to transport to and from school if the service is provided to Lakota freshmen. Currently, the district transports more than 1,240 students to 19 different K-8 non-Lakota schools, as long as they are within a 30-minute distance. The plan passed by the board assumes an additional seven non-Lakota schools would require transportation, including Moeller High School, Cincinnati Hills Christian Academy, and Bishop Fenwick High School. 
"I can see how it is beneficial, and I'm glad that the freshmen of next year won't have to struggle with time and things like that, which a lot of us freshmen struggled with," said Muñoz, who has gone to Lakota schools her entire life.
One of the three options proposed reintroducing busing not only to freshmen, but also to their peers in the main campuses. This plan presented its own challenges, however. 
"Probably [one of] the biggest obstacles [to implementing busing at the main campus] we've seen historically is that rider access at the main campus is significantly low," East Principal Suzanna Davis said. "It's definitely a conversation that looks a little different at the freshman campus and the main campus, simply because of student drivers." 
"[Lakota is] pretty healthy. Our finances are probably the best they've ever been in a long time or maybe they've ever been. So financially, [busing] was something viable that we could look at." -Lakota Superintendent Matt Miller 
According to a Spark survey of 131 East students, 40% said that the board should have implemented busing for all high school students. About eight% of students thought busing should not be provided to high school students. 77% of students surveyed said they would not use busing services if it was provided to their grade. 
"I think [the main campus] should have busing," East senior Muhammad Anwar said. "It would be easier on the parents and students because they'll never be late. Students [wouldn't] have to disturb their parents and wake them up to go drop them off. I bet their parents work and they probably don't feel like getting up." 
The third option presented a plan to reinstate busing to all grades 9-12 but with a change in schedule at the main campuses – moving the time classes began from 8:05 a.m. to 8:40 a.m. In this scenario, the school day would have ended at 3:15 p.m. rather than 2:40 p.m. This would allow buses to run multiple routes between schools, allowing for more efficient use of the vehicles. However, Board Member Kelley Casper was leery of the issues this plan would have posed for the schools.
"In that scenario we don't know if we'd be able to keep the zero period," Casper said. "I don't want to take educational opportunities away from kids for transportation."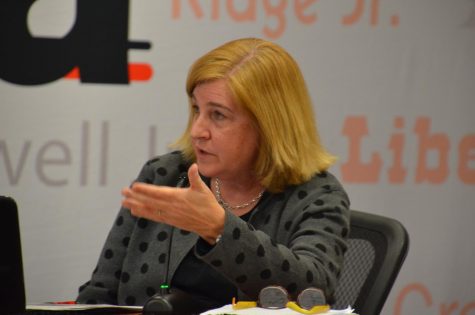 Additionally, according to Lakota Chief Operations Officer Chris Passarge, the change in bell times at the high schools would pose an issue for the transfer of staff between buildings.
"If there are different times [between buildings] that spreads out the day too long for that teacher," Passarge said. "[Different start times] may be efficient for transportation, but it may cost us more on the staffing side to provide the educational opportunities we currently have."
However, according to Petermann General Manager for Lakota Transportation Sue Prewitt, providing transportation to all high school students would not be possible without changes in the high school's schedule.
"If [Lakota doesn't] do the bell time changes, we cannot [provide busing] because it would take twice the vehicles to do that," Prewitt said. 
Lakota has outsourced its busing services to transportation company Petermann since 2005. According to Passarge, the decision to outsource busing was made in order to save the 63 square mile district the rising operational costs of having to service its own fleet of buses. 
"It saved about a million dollars a year for workers compensation," Passarge told Spark. "Basically, [Petermann] buys the buses; they hire the staff; they run the daily operation, but they still report to me. They follow our board policy, they follow our rules. They do everything that we want them to do but they're not on our payroll."
"Regardless of where people fall politically, this is an investment that people in our community want to make in our students and our schools. It's a pain point for families, it's a pain point for businesses around our schools." -Board President Julie Shaffer
Currently, Lakota budgets a base cost of $12,250,000 each year for busing. Factoring this expense into Treasurer Jenni Logan's five-year forecast, the district is expected to enter a spending deficit in fiscal year 2023, the first time it has done so since 2013. With the additional $2.7 million annual cost of freshman-only busing, the district is projected to enter the spending deficit a year earlier, in fiscal year 2022. 
"It is a shame the district does not have at least freshman busing," Board Member Todd Parnell said at the meeting. "And I came in here ready to support that. Seeing it in the context of the five year forecast, however, this does seem rushed. We're burning up cash."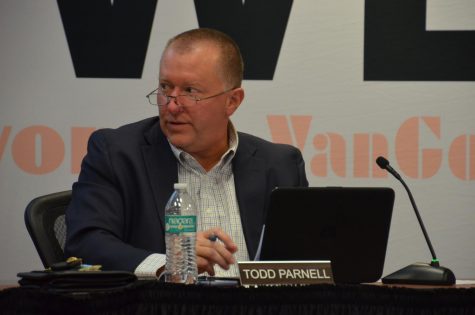 East PTSO parent Erin Short echoed Parnell's concerns in a statement to the board.
"This vote feels rushed to me. Why next year? Why not take the time, really understand the numbers and our scenarios that are ahead of us and push it to the year after?" said Short, who has two high school students of her own. "It's worth looking into the long term effects. I don't feel it is responsible to add a recurring expense to a forecast that already shows a deficit."
However, Logan was quick to emphasize that the five-year forecast is a notoriously conservative estimate of future expenses. According to Logan, part of the difficulty in forecasting the district's budget five years ahead is that the state's budget runs on a two-year schedule, meaning Logan must make estimates about how much state funding the district will receive.
"We can't forecast what's going to happen in two biennium budgets," Logan said. "It's based on the information we have as of today. And we know we might know something different tomorrow. So as the assumptions change, the numbers will change."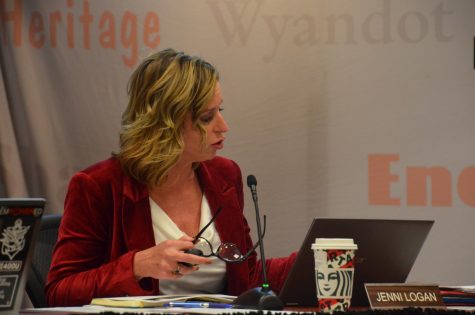 Community member Jeremiah York, who has no students in the Lakota district, favored the board's decision.
"Busing is one of the most basic and helpful services a school district can provide.
And yet this service was cut in 2011 and [has been] terminated for the last eight years," York said. "This is a dreadful shame. School busing should never be cut."
Lakota parent Jessica Williams, who has two children in the district, has considered other options for her children's schooling due to the lack of high school transportation. 
"We've talked about online school, honestly," Williams told Spark. "We know enough people who've had good experiences, if I can't get my kid to school and she's old enough to stay home, maybe that's an option we will take advantage of."
One of the main costs of the new transportation plan is the required expansions for the busing service center next to Liberty Junior School. 
"We would probably have to do some expansion to the service center," Casper said. "Part of the problem is just parking. If you start hiring 60 more bus drivers, [there's] already an issue with overflow parking into Liberty Jr."
An additional problem Lakota will have to contend with is a shortage of bus drivers.
"We have 167 [bus] routes right now and we're having a hard time keeping 167 fully staffed at times," Passarge said. "It's a statewide issue. I've talked to all my peers at different districts. Finding bus drivers is really hard right now, at least good ones."
Currently, Petermann employs 200 drivers, 41 aides, and 25 substitute drivers to handle Lakota's transportation needs, but with the additional routes freshman busing will require, the company is looking for another 45 drivers and 10 substitutes.
"[The district and I have] had several conversations over what it's going to entail," Prewitt said. "[Petermann is] recruiting as we speak. We've got nine [drivers] in our pipeline right now. And I've already hired about 23 or 24 new drivers."
In the past, the board has investigated other options, including requiring families to pay a fee for busing. However, this option is not legal in the state of Ohio, since not every school district faces the same transportation issues. Lakota, the eighth largest school district in the state of Ohio, is the only district in Ohio's top 10 largest districts not to provide high school transportation. 
"Regardless of where people fall politically, this is an investment that people in our community want to make in our students and our schools," Board President Julie Shaffer said. "It's a pain point for families, it's a pain point for businesses around our schools."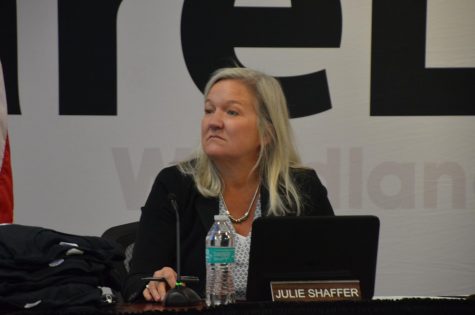 About 98% of Lakota's 1,324 eighth grade students will be eligible to receive transportation beginning next fall. Currently, private busing services are available at the high schools from Pride transportation. Busing service will not be available to any upperclassmen with zero periods, even though the classes would start at the same time as those at the freshman campus. 
"I've been [at the freshman campus] for close to 10 years and [have seen] the stresses that the transportation issue puts on puts on our parents and their kids," Jackson said. "If there's a possibility of helping [parents]  out in some way, I would encourage [the board] to try that."