story by Nicco Morello | photography by Jake Ratliff
Veterans crowded main street early one morning for East's fourth annual Veteran's Day ceremony.
40 local veterans and their families came to East for this ceremony, which started at 7:30 a.m. in the cafeteria where the veterans and their families received a breakfast of assorted items.  After this, the veterans and their families processed down main street, led by Veterans of Foreign Wars (VFW) 7696 Color Guard and Boy Scouts Troop 942.  
Desert Storm veteran and VFW member Mike Barker has been involved since East's first event four years ago.  
"I like [this event] very much, especially for our Vietnam veterans just because they never got a welcome home. I was in Desert Storm, I got a welcome home. Those guys never did," Mike Barker said.  "I think they very much appreciate the kids giving them a very nice welcome home ceremony. It's nice for them, it's nice for us all."
Second period classes were stopped so that all East students could come out to witness the veterans' parade down main street, and participate in a school-wide Pledge of Allegiance.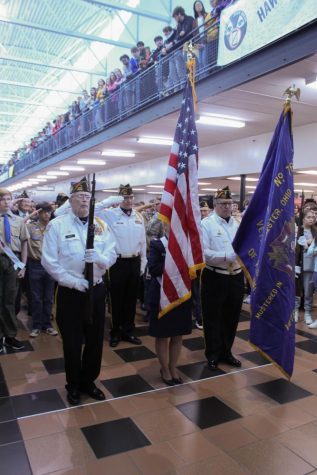 East junior Robby Vogelmann has veterans in his family, but none were present at the event. 
"It's great that we're cheering on our veterans for all of their sacrifice and service for our country," Vogelmann said.  "I think it's great because it shows that our veterans are appreciated, even though they might not feel like it, and that it shows we care for them."
After the procession down main street, there was a program held in the gymnasium which junior class attended.  Music was presented by Eastside Voices and East Symphonic Winds, three speeches about veterans and Veteran's Day were given by East students, Hunter Oswald, Jack Cole, and Noland McGraw.  A video was also shown of East students showing their appreciation for veterans and of Honor Flight 2019. This video was created and provided by the Spark Broadcast Network (SBN).  
East U.S. History and Sociology teacher Clint Adkins was present during the assembly with his father, who is a veteran.  
"I thought [the assembly] was great.  It was a great dedication to our veterans, both in active duty and those that have served in the military forces," said Adkins, who is also head coach of East's boy's basketball team.  "Just talking to the veterans, [their] feedback was amazing."
East Instructional Aide,  Honor Flight Tri-State Ambassador, and head of the East Veteran's Network Club Sally Barker has organized this event since its beginning. 
 "The veterans love this event.  In fact I have had veterans crying because, for some, this is the very first time they have ever had a parade or experienced such gratitude," Sally Barker said.  "It means a lot to see high school students wanting to thank them for their service and truly appreciate what they have done for their country."