story by Rebecca Breland | art by Selena Chen
*denotes name change
As the last day of school arrives and students leave the building for the last time until August, the dumpsters fill with old school supplies that students no longer want. Emma* comes across a hoard of pens, pencils and notebooks, things that would normally cost five dollars each, an entire meal.
Many students leave behind school supplies they feel they no longer need, but Emma sees perfectly good, and occasionally expensive, school supplies her family would not normally be able to afford. Emma isn't like the everyday student that can throw away a half-filled notebook. She struggles to afford even the most basic supplies. Emma is one of the many high school students who face poverty in their everyday lives.
According to the National Center for Children in Poverty (NCCP), 19 percent of children under the age of 18 are considered to be poor in the United States (US). A total of 14 million children are considered poor, and six million children are considered to be in deep poverty.
In Ohio, 22 percent of children under the age of 18 are considered poor, according to the NCCP. As a public school district, the Lakota District is required to provide free and reduced lunches to those who are eligible. An eligible family is one whose income is at or below 130 percent of the poverty level. The schools pay for the meals originally, and then are reimbursed through the federally assisted National School Lunch Program (NSLP).
Emma is among the 13 percent of students that receive free or reduced lunch through Lakota, according to US News and World Report. To her knowledge, she has received free lunch since she was in at least seventh-grade.
"I was very scared and embarrassed to tell people I have free lunch," Emma says. "I never told them because I thought it was embarrassing. Everyone here is rich and they [have] good lives."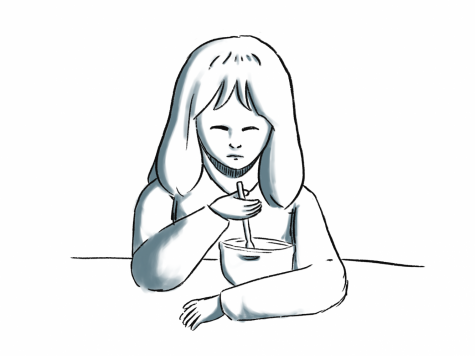 As the second oldest of four children in her family, Emma is among many families who live under the poverty line. Throughout her life, money has been a struggle for her family, and her parents who work odd hours has lessened her ability to do many extracurriculars. 
"I can never join any sports because it costs too much," Emma says. "I wanted to do the Spanish club, but my dad is the only way I can get home and I can't drive until January so I have to rely on him."
Poverty can take a toll on children, and not just in their social life. It can affect children in other aspects of their lives, including their education and developmental growth, according to psychology professor at the University of Wisconsin-Madison Seth Pollak.
"Impoverished children have less access to medical care, increased exposure to toxins, violence and income inequality," says Pollak. "Having to deal with all of these factors is more than any one person can [handle]. It's stressful, and subsequently affects developmental growth." 
Emma says she has seen this effect in herself as, faced with poverty along with the other things happening in her life, she became very stressed. She was having many difficulties and it caused her academics and social life to lack.
"In 2014, my mom [was suddenly out of the picture]. [It was] a few days before my little sister's birthday," Emma says. "That's when I [was diagnosed with] major depressive disorder; it is just really bad."
East junior Olivia Wiles, like Emma, has dealt with poverty before. Wiles has been living on a single family income since her freshman year, and has to work to pay for things she wants, such as doing things with her friends. The financial issues had caused a strain for Wiles and her family, but when she was approved for free lunch, some of that stress was removed.
"I feel like being on the [free] lunch program has really helped out because it's [saving] almost hundreds of dollars a month," Wiles says. "I am involved in activities at school that do cost money and are kind of expensive, and I've been able to do them because my mom is so smart  about doing the best with what she has."
Not only was the money an issue, but when it came to school Wiles had many issues. The stress of home life caused her academics to suffer because of everything else she was dealing with.
"[When finances became an issue], it was the week of exams, and I was in a musical at the time, too. It was really hard to cope with everything," Wiles says. "School is an environment where you have to be professional. I'll be in class sometimes thinking about things outside of school that I shouldn't, and it makes it hard to focus."
According to a 2014 University of California, Los Angeles (UCLA) survey of 800 secondary school teachers, students in high-poverty areas lose about 22 days of instruction. This can be due to malfunctioning equipment in schools, absences, higher rates of suspensions and expulsions, inadequate access to healthcare and environmental factors like unstable housing and chronic hunger. This is compared to the average of 12 days missed by students at schools with lower poverty levels.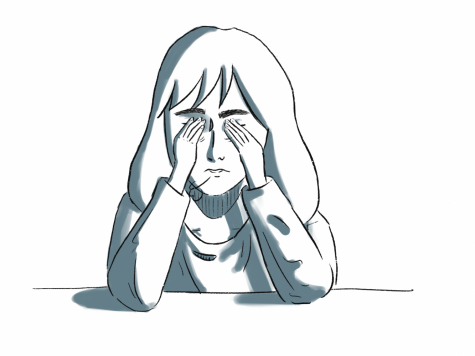 East senior Jane* was on reduced lunch while she was in foster care. She has now been adopted and lives in better financial standing, but Jane's past financial issues have hindered her learning.
"My sister definitely needed help with her homework all the time," Jane says. "And [the help she needed] wasn't there when we were younger, but now that's there. If she needs it, we can get her a tutor or [our adoptive] parents can help her."
Many different organizations have arose to combat these issues of poverty in education and to help those struggling to succeed. These kinds of organizations are seen at both the local level and the national level.The Wisconsin Harvesting Opportunities for Postsecondary Education (HOPE) Lab is an organization at the national level. The HOPE Lab is a research lab aimed at understanding and improving affordable outcomes for postsecondary education. 
The lab as a whole works to get colleges to state true prices for their colleges, help families to understand those prices, and to find ways to cover those costs. The HOPE Lab especially looks into the stopping of intergenerational poverty, poverty that continues throughout many generations because of different factors, such as the availability of proper schooling.
"The intergenerational poverty [describes] those that are going to college, never really second guessing it. If [college] was assumed, it was talked about growing up and their parents can more easily pay for some of the additional expenses that come along with it," says Sarah Levine, who once reached out to the HOPE Lab for help but now works with them.
On the more local level, Lakota provides access to community liaisons, who work to combat poverty many different ways. They work as a part of a bigger Butler County program called the Success Program.
"Our goal is to work with families and students to eliminate non-cognitive barriers to learning," says Jennifer Tye, one of the seven community liaisons employed by Lakota. "If [students aren't] worrying about where they're sleeping tonight, or not worrying about being hungry, then maybe they can focus on that math test tomorrow."
East has its own organization, the Eastside Angels. This group comprised of three teachers, who have a fund of money, which they use to help students. If a teacher sees a student struggling financially and knows what materials he/she might need, those teachers can help that student.
"We have helped with coats, eyeglasses, mattresses, clothing, we've helped with paying for graduation caps and gowns," says East English Teacher and Eastside Angel Michelle Wilkerson. "We want to make sure that they're able to do the things that a normal high school teenager would be able to push through."
All of these organizations together are not just trying to combat poverty, but also attempting to make the lives of those impoverished easier. Negative attention from poverty is highly prevalent today, as people are judged for not being as affluent, especially in the school systems, and these three organizations are trying to fight that.
"If we can eliminate the negative attention that people are getting from [having financial problems], that would be really good. [People should] not pity them as much, because those people are the ones who are strong," Wiles says.