Rabins for the Win
The East football team beat Colerain for the first time in 22 years. East running back Nick Rabin's uncle, Mike Rabin, was on the team the last time East won in 1999.
STORY BEN STOWE
PHOTOGRAPHY RILEY HIGGINS
INFOGRAPHIC MARY BARONE AND KAITLIN DWOMOH
First-team All-Butler County defensive back, second-team Greater Miami Conference (GMC) running back, and a punt returner who averages 40 yards per punt. You may think this sounds like the foundation of a competitive football team. In reality, this all describes one player: Mike Rabin. 
A former East football player, Rabin played his senior season in 1999 and graduated in the class of 2000. He was known by many as one of the most versatile players to ever come through Lakota East. Although he played defensive back his sophomore and junior years, he ended up playing both offense and defense his senior year. In a 2017 Journal-News article by Lauren Pfahler, he was named one of the seven best players to ever come through Lakota East High School.
One of his biggest punt returns his senior season was against Colerain in which he returned the ball down to the two-yard line and set up a score. This turned out to be crucial by the end of the game when East won by a narrow margin of 28-25.
When Rabin's team beat Colerain in 1999, he did not think it would be another 22 years before it was done again. He would be especially amazed to hear that his future nephew, Nick Rabin, would play a role on the team that finally won decades later. Just like his uncle, Nick, a member of graduating class of 2022, was also a running back and punt returner.
Although the elder Rabin was a star in football, he ultimately went on to play baseball for Ohio State University. This opportunity can be partly credited to a high school coach of his, Rob Burnside, who talked Rabin into sticking with baseball his junior year when he was considering quitting to instead lift weights in the offseason to improve his strength for football.
"Mike was a really talented player," says now East principal Burnside, who served as a special teams and running backs coach during Rabin's time at the school. "Great speed, but more than that Mike was just an awesome kid. I just loved the way [he] competed.".
Burnside began coaching at East when the school opened in 1997.
"When Lakota split into East and West, the entire Lakota [football] staff came to East except one coach," says Burnside. "I was the new guy on the Lakota high school staff that came to East."
Burnside started as the receivers coach and became the special teams coordinator further down the line. According to Rabin, it was Burnside's schemes that allowed him to return punts so well.
"We had the best punt return scheme that he drew up," says Rabin. "We broke long punt returns in four or five games."
Burnside saw plenty of success in his time coaching at East including the win against Colerain and East's best regular season record to date: 9-1 in 2004. That year, East shared the GMC Champion title with Colerain who would go on to win state. As of 2021, this was East's best ever finish in GMC standings.
Although Burnside left in 2005 to accept a job as an assistant principal at New Richmond High School, this would not be the end of his time at East.
Current East head coach Rick Haynes was also involved in the 1999 East vs. Colerain game, but on the opposing sideline. Haynes coached Colerain's offense from 1991 to 2006. This included the year when Colerain won a state championship. Of all Colerain's 22 starters that year, 12 ended up with Division I offers from schools including Ohio State University and University of Michigan. 
Haynes took a break from coaching high school football and began coaching at Thomas More University in 2006. During this time, he still taught at Colerain High School but was able to watch his son, Jared Haynes, play for Lakota East on Friday nights.
Haynes returned to high school football as Lakota East's head coach in the year 2010. The team had been on a streak of losing seasons which began in 2006 and ended in 2012 — just two years after Haynes arrived. That year, the team went 7-3 in the regular season, qualified for playoffs, and finished with a record of 8-4.
The 2014 season had another close East vs. Colerain game. In the final seconds of the game, East's failed 2-point conversion in overtime resulted in a heartbreaking Thunderhawk loss and Cardinal victory with a final score of 49-48. East's losing streak vs. Colerain lived on.
Given Haynes' history with Colerain, one might expect that this season's victory would have some personal meaning to him.
"There's only one guy left on the staff that I coached with that's still there," Haynes says. "It had been 12 years since I'd been there. Obviously it was exciting to win over there and it was exciting for the players, but personally I don't know that it was any more big of a deal than beating Mason or beating [Lakota] West."
In 2018, the class of 2022 arrived at the East Freshman Campus where Burnside had made his comeback to East as the associate principal the year prior. Word had gotten around about the Liberty Junior eighth grade football team having an undefeated season and winning the GMC the year before, so expectations were high.
"I remember thinking that class had the opportunity to be something special," Burnside says .
Although he was no longer coaching football, he still made an impact on the freshman team by sharing his competitive attitude and mentality with the school. The team finished with an 8-1 record, losing only to Fairfield.
Burnside says that he had such a deep connection with East that even when he left to become the principal at New Richmond high school in 2020, he would still keep tabs on how the students were doing in athletics and other extracurricular activities.
"The first thing I would do when I got home on Friday nights was check and see Lakota East's scores," says Burnside. "That's always going to be something that is just in my heart. Any time our teams have success, I take great joy in it."
East Freshman football head coach and Math teacher Mike Buckenmeyer says he was confident the class had the potential to beat Colerain at the varsity level, especially since they had beaten them at the freshman level. He added that the class who followed was able to strengthen weaknesses of the senior class, such as the offensive line.
Buckenmyer says that although the senior class had skill players such as Caleb Vanhooser, Charlie Kenrich, and TJ Kathman, they lacked size on the offensive line. This year's junior class was able to fill those gaps with players such as Austin Siereveld, Aiden Siereveld, and Harrison Clute.
After years of anticipation and flashes of potential, the 2021 football season had arrived. This would be the year that both the class of 2022 and class of 2023 could play together as developed juniors and seniors.
The team debuted week 1 at home against Moeller on Aug. 20. Although the game ended in a 42-27 loss, the team was able to showcase the dynamic offense they'd use to dominate the next few weeks. An example of this was on the team's second drive of the game in which quarterback TJ Kathman threw a 81 yard touchdown pass to receiver Caleb Vanhooser.
East's offense scored a total of 138 points over the next three games while their defense held opposing teams to a total of 28 points.
These games put East into conversation with the best teams of the conference, including the GMC titans– the Colerain Cardinals. The anticipation of the Week 7 matchup between the two teams continued to build as East continued its win-streak through Weeks 5 and 6 against Mason and Sycamore.
The Thunderhawks walked into the Cardinals' stadium on a five game win-streak. According to Nick, the team walked with confidence despite the nerves.
"We had nerves just like every game," Nick says. "But we were prepared and knew what we needed to do to win so we carried ourselves with confidence."
The first half of the game was scoreless. Colerain started with the ball but was forced to punt after five plays. East then got the ball, but also punted shortly after. This cycle continued until the second half.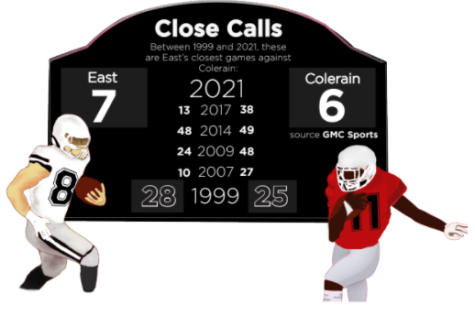 East got the ball at the start of the half and scored on the first drive. Afterward the punt cycle continued until the fourth quarter.
With less than four minutes left in the 7-0 game against East, Colerain had the ball and was looking to score to tie the game.
They marched down the field and into the red zone. With three minutes and 42 seconds left in the game, the Cardinals scored on a seven yard run.
As East's offense huddled on the sideline, preparing to score with the little time they had left, Colerain's point after touchdown (PAT) unit took the field. The crowd roared as the kicker took his steps before the snap.
As the ball was kicked, East senior Jaiden Palmore-Lett broke loose through the line. He charged toward the ball, reached out, and blocked the kick. The Thunderhawks and their crowd go wild as the scoreboard reads 7-6.
Not all pressure has been relieved of the offense just yet. They still needed to run out the remaining three minutes on the clock.
East kept the ball on the ground and successfully ran down the clock. After two hard fought first downs, they had made history. The Thunderhawks had finally put an end to their 22-year-long losing streak to Colerain.
"There were a lot of good players in this group," says Burnside. "More importantly, there were guys in this class who really had a good mindset. I really thought they had the chance to be special because they never looked at anybody else and thought they couldn't beat them. They looked at it like, 'if you're that good, show us.'"