Pandemic Pawsitivity
story by Hannah Bui | photography fair use
Scrolling through Facebook, everything is dark, angry and scared people are fighting. The news of COVID-19 haunts people's feed. It feels like there is no way out.
This all comes to a stop when Robyn Knappenberger's Facebook page pops up. Instead of doom and gloom, she's posting small kittens playing around her home. Knappenberger has been fostering kittens while she is all stuck inside of her home. 
"There is so much bad news and stress in the world right now," Knappenberger told Spark. "Anything people can do to spread a little happiness and joy is helpful." 
Knappenberger has had a long time love for cats, starting when she was a child , when her family had a cat that lived until Knappenberger's graduation from high school. After that, she has always had a cat in her life. 
"I can't imagine not having at least one cat in my household," said Knappenberger who has already adopted four cats, but decided six months ago that she wanted to try fostering through HART Cincinnati, an organization that rescues homeless animals, saving them from euthanization, abandonment, and abuse with the goal of placing them in a forever home.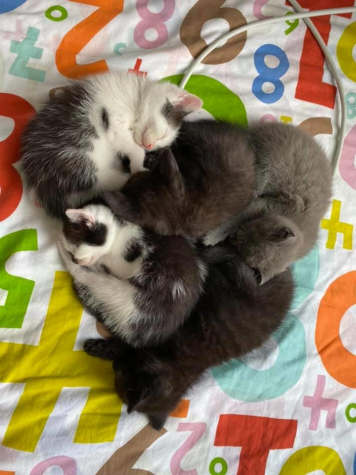 "We (her family) were on a track to end up with a house filled with cats," Knappenberger says. "So fostering seemed like a good way to enjoy having kittens in the house without permanently going overboard." 
During the coronavirus pandemic, she decided to post pictures of the six foster cats she has on Facebook to get people to meet the kittens without having to come in person.  
"That allowed me to share the kittens with many more people at one time," Knappenberger says. "We even have someone in Peru who is following the kittens." 
Fostering has sometimes gotten overwhelming for Knappenberger. With more people at home due to the pandemic, nationwide adoption has taken off which excites Knappenberger. 
"We had a kitten earlier this month who was adopted within 24 hours of her picture being posted on Facebook," Knappenberger says. "Kittens bring us so much joy because they are so adorable and it has been fun to see them develop even over the last few weeks."