There's Always Next Year
story by Brayden Barger | photography by Rebecca Breland | art by Abbie Westendorf
The atmosphere was electric. East students and members of the pep band packed one side of the Cintas Center while Beavercreek students and their band packed the other. Fans and family members filled the rest of the Xavier University arena, eagerly awaiting the Ohio High School Athletic Association (OHSAA) boys basketball showdown between Lakota East and Beavercreek for the 2020 District Championship on March 7.
The two teams fought it out to the very end, with Beavercreek almost coming back at the last second with a half court buzzer shot that missed by the width of hair. But East ultimately came out on top with a score of 33-32 to capture their second consecutive district championship. The celebrations and energy after the win could be felt throughout the arena. Though East's next game had a similar outcome, the atmosphere was polar opposite. 
Following guidances given by the CDC and the Ohio government on March 10, fans were barred from the Regional Semifinal game between Lakota East and La Salle. Only the media, immediate family members of players and cheerleaders, and up to 4 guests per athlete were allowed into the Cintas Center. The packed East student section from the previous game now only consisted of four individuals.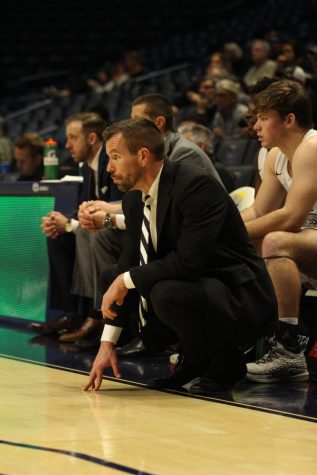 East won the highly competitive game with a score of 44-35, capturing their first regional semifinal win in school history. Though the crowd was minimal, East senior Alex Mangold says his team knew they had plenty of support from fans at home, and the crowd that was present still managed to be loud and supportive, getting the team through the game. 
"It didn't feel like a sweet 16 game," Mangold told Spark. "But we knew from home we had the supporting crew we needed and I think the support was pretty good from the crowd that we had. The parents got into it and I loved it, and we need the same thing when we play Moeller." 
However, the Hawks would never go on to face Moeller for the regional title, as the OHSAA announced on March 12 that all winter tournaments would be postponed indefinitely. Then, two weeks later, on March 26 the OHSAA announced that the tournaments would be cancelled, ending the Hawks' historic postseason run. 
These cancellations, along with a few events during World War II, are the only sports cancellations in the history of the OHSAA, which was founded in 1907. In a press release, OHSAA Executive Director Jerry Snodgrass expressed the importance of health and safety, and the cancellations are necessary in order to help stop the spread of COVID-19. 
"We are just devastated that the tournaments cannot be completed," Snodgrass says. "But our priority is the safety of our student athletes, coaches, communities and officials. Ohio Gov. Mike DeWine is asking all Ohioans to do everything they can to stop the spread of this virus. That request means that school sports cannot happen at this time. Even if our schools reopen this spring, it will be difficult to find facilities willing to host the tournaments. Most campuses are shut down until mid to late summer." 
Ohio is far from the only state impacted by COVID-19 related school closures. All 50 states have mandated the suspension of in-person instruction. Currently 44 states have mandated or recommended schools be closed for the rest of the academic year, as of May 1. 
This means that all of the nearly 8 million high school athletes in the U.S. are impacted in some way, according to the National Federation of State High School Associations. Whether it be tournaments for winter athletes, seasons for spring athletes, or training for fall athletes, all high school athletics are impacted by the COVID-19 pandemic. 
East junior Nate Johnson, who had been a key player on offense this season with an average of 17 points per game, says that the tournament cancellation came as a surprise. 
"When we first heard [that the playoffs were postponed], we didn't think that it would be for the rest of the year. So we were all kind of in shock that all of our hard work went to waste," Johnson told Spark. "We all felt for our seniors, since their last year didn't really have an end to it."
East Varsity Basketball Coach Clint Adkins says that being deprived of the chance to make the Final Four and beyond is devastating for the team and coaching staff. 
"As a kid I've always dreamed of going to the Final Four," Adkins says. "When you're a player, or you're a coach, that's just something you dream of, and to be that close and not be able to even have an opportunity to do it was difficult," Adkins told Spark. "But more importantly, for our guys and our coaching staff, I felt horrible for them. I know the amount of time they invest in it as well. They work so hard to get an opportunity to do something that is special, that very few people get a chance to do, and to know that it's finally over, it was a rough couple of days."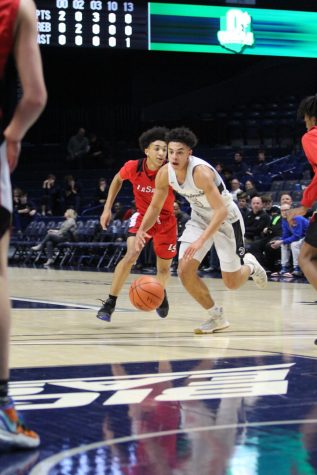 On the East wrestling team, seniors Alex Epstein and Aaron Sharp were set to compete at the OHSAA State Championship in Columbus, as Epstein placed third overall at the 138 weight class and Sharp placed fourth at the 285 weight class at Districts. 
Sharp, who was committed to the now defunct Urbana University, says he was angered by the OHSAA's decision to cancel the state tournament. 
"When I was first told I was angry, because I worked so hard to make it to that point, but then I realized no one could do anything about it so I wasn't worried," Sharp says. "I'm not sure how everyone else is handling it. Though I know Alex [Epstein] was pretty much in the same boat as me, but he was happier since he could finally eat again." 
Epstein, who is committed to the University of Findlay in northern Ohio, says that he is trying to look on the bright side of things, and not dwell too much on the missed opportunity.  
"My initial reaction was disbelief at the whole situation and it never became reality until it really was all over," Epstein says. "Aaron [Sharp and I]have gained weight of course, but I'm quite happy about living the fat life. For the most part, I've dealt with state [being cancelled] by staying busy and just looking forward to my college career next year."
East wrestling coach Chad Craft says that he and his coaching staff are disappointed that Epstein and Sharp weren't able to compete. 
"Our entire coaching staff was very disappointed that our two state qualifiers were not able to experience the state wrestling tournament," Craft says. "It is something that every high school wrestler should be able to experience."
Socially, the tournament cancellations have had a major impact on athletes and coaches. But they also have a costly economic impact. According to the OHSAA, ticket revenue from postseason tournaments makes up 80% of their operational budget, with the other 20% coming from officials' dues and corporate sponsors. Snodgrass says that cancelling the tournaments could cost the OHSAA around $1.5 million in revenue. 
"I think without question there is a huge financial impact on this organization," Snodgrass says in a press release. "We have a separate team that's working on not only the impact of it but how we are going to deal with it. I think it's twofold."
For East's basketball team, Adkins says that it will also be costly for them if they are not able to put on fundraisers that are planned for this year.
"If we can't have our two Amateur Athletic Union (AAU) fundraisers in May, if we can't have our basketball camp in the gym, there's going to be a financial impact on us as well," Adkins says. "You have the social side of things and then you also have the economic side effects, so [the pandemic is] having a negative impact all the way around." 
East Athletic Director Richard Bryant says that the long term impact COVID-19 will have on East athletics is uncertain. 
"For our winter athletes we will never know what the lasting impact might have been; did we lose a state title?" Bryant says. "[The winter and spring cancellations are] an incredible setback for East Athletics, an understandable one, but incredible nonetheless. The successes, experiences and opportunities are not items that can have a value placed on them."
Despite the tournament cancellations, school closures, and all of the negative that has come from the COVID-19 pandemic, Mangold keeps a level head, and says that while everything that has happened wasn't expected, it is unique to his generation and something that they will always remember. 
"It's weird to think that in my high school career, I will have had homecoming and graduation on the football field," Mangold says. "But it's unique to our class I guess. It's something we will always remember. My hope is that we reschedule prom for a safe date as soon as we can, but the most important thing is graduation for sure. After many years of schooling I would like to walk across some sort of stage and live through that moment that I've been wanting to do all these years."