story by Hannah Fuller | infographic by Alexandra Fernholz | photography fair use
Not only do schools have to adjust to the new way of learning due to the increasing cases of COVID-19, but also they must now tackle how to feed those children who depend on the food given to them by the district. 
With around 17,000 students in the Lakota  district, an average of 9,000 students buy their lunch or receive a free or reduced lunch each day that Lakota distributes food, according to Craig Hatfield, Lakota Senior Director of Business Operations. Of those 9,000 students, about 19% receive a free or reduced lunch. As the schools in the district close, these students still rely on meals provided by their school.
Starting on March 23, 2020 Lakota Local Schools started a program where buses are packed with meals and travel to six neighborhoods. These neighborhoods, which are also bus locations during the school year, include Countryside Village, Lakota Pointe, Lakota Lakes, Meadow Ridge, North Pointe, and Princeton Village. Pick up locations are at five schools: Adena Elementary, Hopewell ECS, Liberty Junior School, West Freshman, Wyandot ECS. Students up to age 18 who are in need are able to pick up free meals every Monday, Wednesday, and Friday. 
See a map of the neighborhoods here. 
The locations of the buses are strategically placed to allow easier access to families who depend on the meals provided to them during a normal school day.
On Mondays, the students are given a hot lunch for Monday, a bag with Tuesday's breakfast, Tuesday's lunch, and a Wednesday breakfast. On Wednesday, they are given a Wednesday hot lunch, Thursday breakfast, Thursday lunch, and Friday breakfast. On Friday, students receive lunch and breakfast, according to Craig Hatfield. Since there are no meals distributed to children on the weekends in a normal school year, there are also no meal distributions on the weekends during the remote learning time. 
The buses arrive at the specific locations at certain times throughout the day and stay at each place for 30 minutes. The meals that the students receive are the same Child Nutrition Meals that are served in the school cafeteria during a normal day. 
Hatfield is in charge of coordinating with Lakota's Child Nutrition Department to make sure there is enough food for the students, as well as ensure the buses are where they are supposed to be at the scheduled times. The Child Nutrition Program is a reimbursement program with The Ohio Department of Education's Office of Integrated Student Supports that partners with the United States Department of Agriculture (USDA) in order to ensure that students are served nutritious foods while at school.
"Our goal is to have every child be given 10 meals a week," Hatfield said. "That's the way we are structured."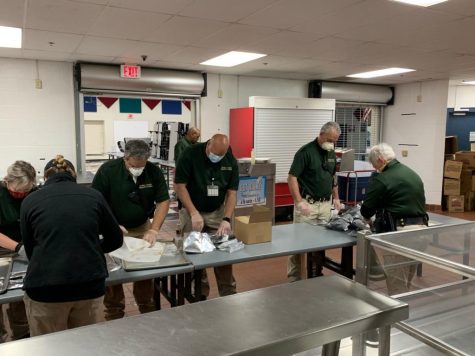 In order to fill all of the bags, nine resource officers and 10 Child Nutrition employees meet to fill the bags starting at 8 a.m. on Monday, Wednesday, and Friday. They then break off into one or two deputies and two Child Nutrition employees and board the buses to distribute the food to students. 
Read more about Lakota's food distribution during the summer months here.
Butler County Sheriff's deputy Jody Green, a seven-year School Resource Officer (SRO) at Liberty Junior and Woodland Elementary, is one of the resource officers that helps distribute the food. 
"All nine deputies along with Child Nutrition work together bagging and preparing meals," Green said. "We are like a well-oiled machine working together." 
Not only do SROs help make sure that students are being fed, the Lakota Office of Diversity and Inclusion (LODI) also helps families in the district to be prepared for success during this time. This organization helps to make sure that all students in the district have equal access to different opportunities in and out of school, including access to technology, school supplies, and food. 
Leah Aguilar, LODI's Parent Engagement and Community Outreach Coordinator, has worked with her team in order to make changes that will benefit students during the remote learning time.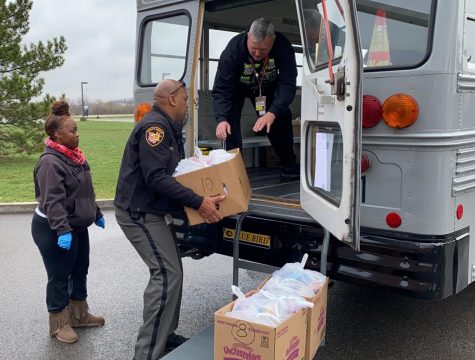 "We continue to reach out to buildings, staff, families, and community partners to ensure any concerns or needs are being met for them as well," Aguilar told Spark. "We also have been looking at the emotional and financial impact of the pandemic and how our students, staff and families are dealing with these issues."
Aguilar has also worked with the Child Nutrition department to help prepare for the distribution of food. 
"LODI helped our Child Nutrition department identify areas in our district that could best reach the majority of students to cover meals for them each week," Aguilar said. 
Although the distribution of food has only been going on for a few weeks, there has been a significant increase in the amount of students that go to the different locations to receive the meals. 
"[April 1, 2020] was a big day, we had 800 students come to get their bag of meals," Hatfield said. "Typically, we have averaged around 2500 to 2700 total meals provided per day." 
During the first week of food distributions, March 23 to 27, there were 6,520 meals provided. During the second week, March 30 to April 3, there were 7,616 meals given to students and 9,140 meals distributed during the third week, April 6 to 9.
"Some people are not capable and may not have the resources to go out and buy food," Hatfield said. "That's why more kids are coming to us so we can help out."