story by Josie McKain | photography by Josie McKain and Andrew Marshall
In front of a packed-out, pinked-out gymnasium, the East Thunderhawks volleyed for victory. The freshman and varsity teams spiked the visiting Oak Hills Highlanders teams, while the junior Varsity girls fought hard, but came up a bit short.
The varsity squad started slow, dropping the first set 20-25 before taking three straight sets at 25-16, 25-21, and 25-19 behind the leadership of senior sniper Sarah Norcom. Norcom tallied 29 kills throughout the game, continuing to add on to East's record.  
Not only was there lots of excitement on the court, but there were additional festivities during the game to help raise money for the Susan G. Komen Foundation, the largest and best-funded breast cancer organization in the U.S.. All of the teams and their supporters raised thousands of dollars through the sale of tickets, t-shirts, baked goods, and raffles as a part of East's efforts to wipe out cancer.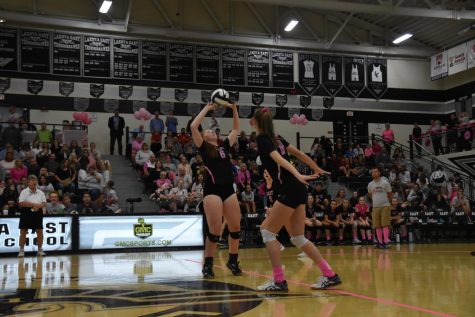 Varsity head coach Janna Stephens, a 2005 East graduate, has been involved in Hawks for the Cure for many years. 
"It's really cool to watch all the parents and all of our extra support come together to make it happen," Stephens says. 
East juniors and volleyball players Delaney Senger and Emily Mason have both played in three Hawks for the Cure games and agree that honoring breast cancer survivors and playing for such an important cause is why they strive to play the best they possibly can on this important night.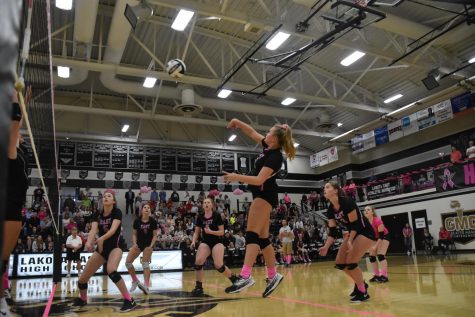 "It is so special to our team," Senger says. "To be able to play for those who cannot play any longer and trying to wipe out cancer at the same time." 
 Junior varsity Libero Molly Marshall, dressed in pink herself, had also participated in the Hawks for the Cure game. 
"My favorite part of this event is seeing all the pink and all the people that come out and cheer us on," Marshall says. "This makes me realize how many people have gone through  the same struggles." 
One in eight women are expected to be diagnosed with cancer during their lifetime. 
Coach Stephens and the players want to thank all the fans and supporters that showed up and they encourage everyone to come out next year for an exciting night of volleyball for an exceptional cause.
Volley for the Cure, or East's version called "Hawks for the Cure," was started by two friends in 2005 through the Ohio High School Volleyball Coaches Association to increase awareness, encourage education, and raise money in the fight against breast cancer. In 2015, the effort surpassed $2.5 million in fundraising and had seen an estimated 75,000 Ohio high school volleyball players get involved.  
"It's really cool to watch all of our parents and all the extra support come together to make this happen," Stephens says. "It truly does take a village."